Nov 13, 2019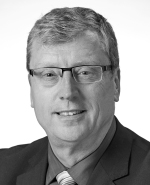 Ken King comes from a family with a long history of working in the real estate, building, and construction industry. Ken has been a part of the process for over 40 years, starting originally as a licensed carpenter, and quickly moving into construction management. He is currently an instructor at Langara College.
"The Real Estate, Construction & Development and Builder Licence programs provide students with an excellent foundation for working in these industries. With Langara, I have collaborated to create meaningful courses that reflect the industry today and into the future. As such, these have become some of the most sought after in the industry."
Ken's career includes many years of teaching at various institutions. Throughout his career, he has completed a total of over $30 billion worth of construction projects. On top of being an instructor, he is also a manager of the Vancouver office at Hanscomb Limited, a cost and project consulting firm that has seven offfice locations and more than 60 employees. As he is still working within the industry, the knowledge he shares with students is current and relevant. In order to stay even more relevant, many of his students who work in different but related fields share their knowledge with Ken.
"Oftentimes, students bring with them current or burgeoning technical knowledge from other sources that I do not have regular contact with. This only helps me to enhance my instruction materials and improve the programs that I have the honour of teaching."
Ken enjoys the fact that his students come from all walks of life. While some of his students attend to meet industry requirements, many are there to complete programs for the pure joy of learning, growing, and becoming better versed in their profession.
A few fun facts about Ken is that when he was a child, he dreamt of being an astronaut. He once ran for federal office. He was a very serious outdoorsman and completed many backcountry hikes, and canoe trips. He now enjoys forest walks, spending time with his grandchildren, and gardening.
View the Continuing Studies 2020 Spring Guidebook online.
About Langara
Located in beautiful Vancouver, B.C., Canada, Langara College provides University, Career, and Continuing Studies education to more than 21,000 students annually. With more than 1,700 courses and 130 programs, Langara's expansive academic breadth and depth allows students of all ages, backgrounds, and life stages to choose their own educational path. Langara is also known as house of teachings, a name given to it by the Musqueam people on whose unceded traditional territory the College is located. Langara is celebrating its 49th year on West 49th Avenue with Beyond 49, an integrated celebration, alumni engagement, and fundraising campaign to reconnect with alumni, and raise funds for student support and important College initiatives.
Learn more.
Lisa Tuyen
Communications and Marketing
Langara College
604.323.5107
ltuyen@langara.ca