Nov 13, 2019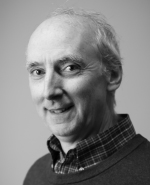 ANDY BARTLETT | INSTRUCTOR
At a young age, Andy Bartlett dreamed of being a newspaper cartoonist­; he tried to interview for a job at the local paper when he was only 11 years old. In 1982, still eager to further improve his cartooning skills, he decided to attend Sheridan College in Oakville. His career aspirations immediately shifted when he first saw his drawings come to life– it was a turning point for him. Soon after, Andy got a job with the Care Bear Movie production team. This was the first of many 2D animation production opportunities in his 35-year career in the industry.
Andy is inspired by his college instructors. His fond memories of their influence helped him find teaching years later. Now he teaches at Langara College and other post-secondary institutions. In his opinion, Langara students have a jump-start in their careers as they get to create their own final project at the end of the 2D Animation program.
"In my experience, this is the most valuable way for a student to learn the whole production process while creating a personal show piece of who they are as artists and what they can do. Not very many schools use this approach."
Andy looks forward to helping his students tell their unique stories and explore new ideas and skills. He is excited to see so many opportunities in Vancouver for talented artists starting in the profession.
"We're fortunate to have a large, varied, and enthusiastic animation community in Vancouver.
For a young animator starting their creative adventure, you can't get a much better opportunity factory than what we have now."
For Andy, animation is not only a career, but a journey where each day is different, interesting, and above all, fun.
When Andy is not animating or teaching animation, he likes to animate some more. He dreams of producing his own short film someday­ - maybe when he has more spare time in retirement. He also draws caricatures at events around Vancouver and is an avid reader during his concurrent long commutes.
View the Continuing Studies 2020 Spring Guidebook online.
About Langara
Located in beautiful Vancouver, B.C., Canada, Langara College provides University, Career, and Continuing Studies education to more than 21,000 students annually. With more than 1,700 courses and 130 programs, Langara's expansive academic breadth and depth allows students of all ages, backgrounds, and life stages to choose their own educational path. Langara is also known as house of teachings, a name given to it by the Musqueam people on whose unceded traditional territory the College is located. Langara is celebrating its 49th year on West 49th Avenue with Beyond 49, an integrated celebration, alumni engagement, and fundraising campaign to reconnect with alumni, and raise funds for student support and important College initiatives.
Learn more.
Lisa Tuyen
Communications and Marketing
Langara College
604.323.5107
ltuyen@langara.ca