Jul 17, 2019
View the Continuing Studies 2019 Fall Guidebook online.
ANNETT FORCIER | STUDENT SUCCESS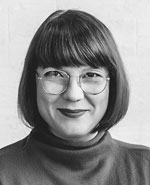 After developing an allergy to grain flour while working as a professionally trained pastry chef in Munich, Germany, Annett Forcier decided to go back to school to get her high school diploma. Soon after, the internet took off and that started her career as a self-taught front-end developer. At the time, there were no formal computer science courses for web development, so she bought herself a computer and started exploring source codes on websites.
After working in the industry for 13 years, Annett wanted to formalize her work experience, so in 2012 she decided to take the part-time Web Developer Certificate Program at Langara College.
"I am definitely more confident after completing the program. Not only do I have substantial work experience, I also gained a certificate from a post-secondary institution. I believe employers like to see work experience and respect a dedicated candidate who is willing to continuously learn," says Annett.
Completing the certificate through Langara gave Annett an edge over other applicants when she started applying for jobs. "I have tried out different part-time courses at various schools and I especially liked Langara, because not only do the instructors work in the industry, but the curriculum is current, flexible, and accommodates the needs of the market," says Annett.
After graduating from the Web Developer program, she worked at various organizations such as Lululemon, Cossette, and Hootsuite.
A few years into working in the industry, Annett discovered a gap in the market for developers with design skills. So, she shifted her focus from web development to email development. In 2017, she was ready to become a full-time freelancer. In 2019, Annett incorporated her company Emailboutique Digital Inc. with a team of freelancers. Emailboutique implements customized designs for marketing emails and landing pages, including layout design, copywriting, and platform testing. Annett never guessed her initial curiosity with the internet would lead to her future career.
In her spare time, Annett enjoys travelling and building her professional network internationally. She loves having the freedom and flexibility to work in various places, meeting online acquaintances in real life and forging new friendships wherever she goes.
About Langara
Located in beautiful Vancouver, B.C., Canada, Langara College provides University, Career, and Continuing Studies education to more than 21,000 students annually. With more than 1,700 courses and 130 programs, Langara's expansive academic breadth and depth allows students of all ages, backgrounds, and life stages to choose their own educational path. Langara is also known as house of teachings, a name given to it by the Musqueam people on whose unceded traditional territory the College is located. Langara is celebrating its 49th year on West 49th Avenue with Beyond 49, an integrated celebration, alumni engagement, and fundraising campaign to reconnect with alumni, and raise funds for student support and important College initiatives.
Learn more.
Lisa Tuyen
Communications and Marketing
Langara College
604.323.5107
ltuyen@langara.ca