Jul 17, 2019
View the Continuing Studies 2019 Fall Guidebook online.
AMIRALI SHAJAREH | STUDENT SUCCESS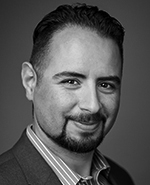 Amirali Shajareh, known as Ali by most, was a senior accountant in his home country of Iran. After coming to Canada in 2016, he enrolled in the Advanced Accounting Program offered at Langara College. Arriving in a new country and starting a two-year diploma program had many challenges, but as Ali reflects on his achievements, he can proudly say he worked through them.
Ali was fortunate enough to meet other like-minded students in the program who shared a similar experience. They were able to keep one another motivated despite their initial struggles to adapt to a new program in a new country or returning to school after a long break. Ali quickly learned that being in a positive, encouraging environment among hardworking, motivated students, plus receiving proper support from his instructors and the program coordinator made it easier to succeed.
"Langara is an environment that provides support and assistance via knowledgeable instructors who teach in a way that makes things easier to understand. All my instructors helped me persevere despite the challenges I encountered and they helped with my success in the program," says Ali.
He also feels that the program prepared him for the job market. "After taking this program, I was not only prepared to start my career, but I had a clear vision about the job market and gained a lot of insight into what the career path of an accountant looks like."
Ali is now working towards becoming a Chartered Professional Accountant (CPA). He currently works as an Operations Accountant at Great Canadian Gaming Corporation after graduating from the Advanced Accounting program in 2018. He is responsible for managing financial information and producing reports for his managers. He appreciates and values the responsibilities he has at Great Canadian Gaming Corporation.
In his spare time Ali enjoys swimming, diving, and spending time with his friends. He also volunteers with a charity that helps keep the planet clean by educating people about recycling and reusing.
About Langara
Located in beautiful Vancouver, B.C., Canada, Langara College provides University, Career, and Continuing Studies education to more than 21,000 students annually. With more than 1,700 courses and 130 programs, Langara's expansive academic breadth and depth allows students of all ages, backgrounds, and life stages to choose their own educational path. Langara is also known as house of teachings, a name given to it by the Musqueam people on whose unceded traditional territory the College is located. Langara is celebrating its 49th year on West 49th Avenue with Beyond 49, an integrated celebration, alumni engagement, and fundraising campaign to reconnect with alumni, and raise funds for student support and important College initiatives.
Learn more.
Lisa Tuyen
Communications and Marketing
Langara College
604.323.5107
ltuyen@langara.ca