Mar 20, 2019
View the Continuing Studies 2019 Summer Guidebook online.
JACK DO | STUDENT SUCCESS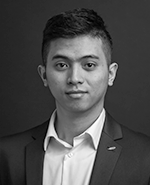 Jack Do had a dream that propelled him. He wanted to study marketing overseas, but quickly realized he needed to improve his English language skills first. From his home in Vietnam, he enrolled in the Langara English for Academic Purposes (LEAP) program, so he could fulfil the requirements of the post-degree diploma in marketing. His overall score on the IELTS test was low, but he figured that once he took a few of the LEAP courses, he would move on.
After taking his first LEAP courses, Jack realized they were the best way for him to pursue his dream career in Canada. At Langara he was immersed in an English environment where he was required to listen to and speak English every day. "I had an opportunity to meet locals and people from different countries. It has helped me to expand my network, which is useful for my career path in the future."
Studying in English is not without its challenges. Jack found that it was tiring to listen to a brand-new language every day. The students in his class were very diverse and he found that it was difficult to understand the different accents at first. However, the more he studied and learned with his classmates, the better his understanding of English became. He also really enjoyed presentations. "The best in-class activity is the presentation. It gave me the chance to enhance my confidence."
Jack is also involved in the Langara community. "I started to volunteer at VOLT, the Langara volunteer program, in September 2017. I assist new LEAP students who come to take the placement test, and I participate in the Grad Panel as well. It's time for me to give back to LEAP. This program helped me become successful."
Jack's proudest moment at Langara College was when he received the LEAP to Academic Studies Entrance Scholarship, awarded to the student with the highest score upon graduation. His hard work and hours spent practicing English had paid off in more than one way.
Jack's favourite English saying is "no pain, no gain" – this quote motivates Jack to continually study and reminds him to keep on going, regardless of how tough things may seem at the time. "I wanted to challenge myself; I moved to Canada. I wanted to get the scholarship, so I had to study hard. So, every time I am struggling with life, I think about it and move forward."
In his spare time, Jack enjoys exploring new coffee shops in Vancouver with his friends. He enjoys making videos and going for walks downtown. Jack is also volunteering as a receptionist and marketing communications assistant at CNIB.
About Langara
Located in beautiful Vancouver, B.C., Canada, Langara College provides University, Career, and Continuing Studies education to more than 21,000 students annually. With more than 1,700 courses and 130 programs, Langara's expansive academic breadth and depth allows students of all ages, backgrounds, and life stages to choose their own educational path. Langara is also known as house of teachings, a name given to it by the Musqueam people on whose unceded traditional territory the College is located.
Learn more.
Lisa Tuyen
Communications and Marketing
Langara College
604.323.5107
ltuyen@langara.ca