Mar 20, 2019
View the Continuing Studies 2019 Summer Guidebook online.
JERYS JURU | INSTRUCTOR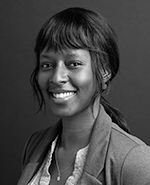 As a young ethnic woman in a predominantly male field, Jerys Juru is not your typical Occupational, Health, Safety and Environment professional. Working in the profession for over eight years, Jerys has a diverse work experience that she now shares with her students in the Health, Safety, and Environmental (HSE) Compliance program at Langara College. As an instructor, her passion for the profession is what brought her to Langara.
"Langara is an environment where you can be yourself and share your experience with authenticity, which is the kind of teaching and learning environment anyone would want to be a part of."
The profession has taught Jerys a lot. She knows to always rely on facts to make informed decisions. This includes not agreeing to anything that she does not have a firm understanding of. It also ensures that she thoroughly understands both the benefits and consequences that come with each and every single one of her decisions.
"A major part of this profession is that you learn how to think outside of the box. You learn how to make things work in a manner which allows an organization to remain true to their goals and values while ensuring HSE compliance is being met."
Jerys struggled working as a young woman in a predominantly male industry. In her early 20's, it was a challenge to find her place and learn how to be heard and respected among her colleagues. With her increase in experience, she quickly acquired a stronger sense of empowerment based on her knowledge.
"When you become passionate about what you do and are consistent in your efforts to do it, eventually, people stop seeing your gender or race or anything outside of what you bring to the table. Passion and effort speak volumes."
Jerys appreciates that the profession is exciting and every day is different. The variety of work that is offered ensures she is constantly prioritizing and engaged in what she does. Her love of working with people and solving problems is part of the job that continually drives her.
"Working with various people from different ethnicities, educational backgrounds, and professional knowledge has taught me a lot about myself and I believe it has enhanced my quality of life in many ways."
In her spare time, Jerys indulges her creative side in poetry and music. She also enjoys writing and hopes to publish a children's book in the future.
About Langara
Located in beautiful Vancouver, B.C., Canada, Langara College provides University, Career, and Continuing Studies education to more than 21,000 students annually. With more than 1,700 courses and 130 programs, Langara's expansive academic breadth and depth allows students of all ages, backgrounds, and life stages to choose their own educational path. Langara is also known as house of teachings, a name given to it by the Musqueam people on whose unceded traditional territory the College is located.
Learn more.
Lisa Tuyen
Communications and Marketing
Langara College
604.323.5107
ltuyen@langara.ca