Mar 20, 2019
View the Continuing Studies 2019 Summer Guidebook online.
KATHERINE DRABEK | SUCCESS STORY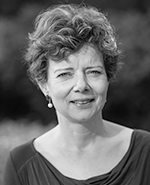 While working as a marketing consultant, Katherine Drabek wanted to become more confident with her computer skills, so she decided to take the Computer Skills for Office Certificate program at Langara College. 
"The computer courses are structured a bit differently from your typical post-secondary courses because these computer courses were more hands-on, and intensive. I was challenged to pay close attention to the instructors as they were demonstrating how to use the programs during class." 
Katherine initially took courses at Langara before transferring to UBC to complete her B.A. in English Literature. She then moved to Europe and worked for a few years before acquiring her M.Sc in Global Marketing. She currently helps market a variety of products and services for clients in the non-profit sector. 
She wanted to acquire a more formal and structured way to use computer programs. The courses she took included: Word, Excel, Adobe Acrobat, and Project Supervision; which introduced Katherine to managing projects using Microsoft Project. 
These courses help with her current work initiatives as she feels more savvy while working on projects with clients, and her output has increased as a result of this. Katherine can now problem-solve better and is more confident when trying out new applications. The courses she took at Langara helped to increase her confidence. 
"I had no problem adjusting to going back to school and have always enjoyed learning. I have taken online courses, but prefer to be in a classroom with others." 
Katherine also has a newfound appreciation for people who are working full-time and taking courses in the evening. She was fortunate enough to reduce her workload for a few months so she could take an average of four courses each semester while at Langara. 
Since graduating, Katherine applies her skills in a variety of ways. This includes better understanding processes and being better at fine tuning specific writing styles which she finds useful while working for a local non-profit. 
Katherine is currently volunteering in grant writing and taking on a variety of work projects. 
In her spare time, Katherine enjoys reading, cooking, and exercising. She also likes keeping up with technology as the world of digital marketing and social media is constantly expanding. 
About Langara
Located in beautiful Vancouver, B.C., Canada, Langara College provides University, Career, and Continuing Studies education to more than 21,000 students annually. With more than 1,700 courses and 130 programs, Langara's expansive academic breadth and depth allows students of all ages, backgrounds, and life stages to choose their own educational path. Langara is also known as house of teachings, a name given to it by the Musqueam people on whose unceded traditional territory the College is located.
Learn more.
Lisa Tuyen
Communications and Marketing
Langara College
604.323.5107
ltuyen@langara.ca