Mar 20, 2019
View the Continuing Studies 2019 Summer Guidebook online.
LEVI TRUDEAU | STUDENT SUCCESS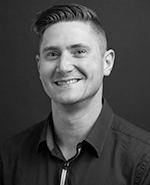 Levi Trudeau recently completed the Small Business and Entrepreneurship program at Langara College. After working for a number of years, he wanted to further his education. Levi did some preliminary research, found the program and applied. He appreciated that the program aligned nicely with his work schedule, and was affordable in comparison to other institutions. Levi currently works in the manufacturing sector as a Lead Hand, where he is responsible for coordinating and overseeing a team of fifteen employees on a day-to-day basis. He ensures that the production outputs are met in a timely manner, and confirms the quality on items before shipment.
Certified as an Occupational First Aid attendant, and as a member of the Joint Health and Safety Committee, Levi enjoys leading his fellow colleagues while creating a positive working environment. Levi's current position allows him the freedom to work with various individuals from all walks of life.
"My primary goal for enrolling in this program was to gain the knowledge required to successfully start a business in the future. My entrepreneurial spirit to create new products, my desire to create jobs, and to lead people within an organization has led me to explore this field."
The most valuable thing Levi took away from the program is learning how to analyze financial statements. He found this to be valuable not only in his work life but also in his personal life. He is now equipped with enough financial literacy to have conversations with colleagues and can brainstorm tactical and strategic plans for improvements within the organization.
"The Bookkeeping Level 1 and Financial Skills for Managers courses, both taught by Arlene Lambert, were very helpful. With her outgoing personality, and real-world experiences, she made it easy to stay engaged in class. She taught me valuable life lessons pertaining to investing, and for that, I am forever grateful."
The program also gave Levi the confidence to start and run a business. Since completing the program, Levi now has the skill set to work alongside management on instilling efficiency within the organization, from a manufacturing perspective. 
"The Small Business and Entrepreneurship Program is beneficial if you are interested in starting your own business, or if you are currently employed in any industry. This program provided me with knowledge and skills to broaden my horizons both professionally and personally."
During his free time, Levi enjoys playing the guitar, composing music, reading, and learning more about science and technology.
About Langara
Located in beautiful Vancouver, B.C., Canada, Langara College provides University, Career, and Continuing Studies education to more than 21,000 students annually. With more than 1,700 courses and 130 programs, Langara's expansive academic breadth and depth allows students of all ages, backgrounds, and life stages to choose their own educational path. Langara is also known as house of teachings, a name given to it by the Musqueam people on whose unceded traditional territory the College is located.
Learn more.
Lisa Tuyen
Communications and Marketing
Langara College
604.323.5107
ltuyen@langara.ca