Mar 20, 2019
View the Continuing Studies 2019 Summer Guidebook online.
GILLIAN COFSKY | STUDENT SUCCESS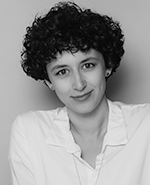 Working as a fitness and dance instructor for a number of years, Gillian Cofsky quickly discovered a point when the business side merged with her art. This included the accounting component that she often ended up taking on because she enjoyed working with numbers and was able to grasp it quickly.
In 2015, Gillian decided to formalize her experience with numbers by enrolling in the Professional Accounting program at Langara College. She already knew she could do the work, and she loved being able to help other artists learn the financial side to their business, helping them to successfully bridge the gap as she did.
With Gillian's passion for dance and her enrollment in the Professional Accounting program, she found a specialized role as a Bookkeeper & Box Office Manager at the Indian Summer Arts Society. This unique role offered a great balance, working within the arts, while allowing her to use the education, and business experience she was acquiring from school. Gillian is now the Finance & Operations Manager at Indian Summer Arts Society.
"Having work in a specific field where I could immediately apply what I was learning in school has been amazing. I was also able to learn way more about accounting for non-profits and charities, which I wasn't learning in school. The combination of education and hands-on experience is the best way to go!"
Throughout her time at Langara, Gillian was able to find a way to balance her coursework with her career. "I found Langara to be welcoming and down-to-earth, and I loved the flexibility of the Continuing Studies program. It allowed me to focus on bookkeeping and accounting, to take classes on evenings and weekends, and to enroll in courses as I was able to take them on."
She also started a new role at Fresh Roots Urban Farm Society, helping with their bookkeeping. Experience with her position at Indian Summer Arts Society and Fresh Roots has allowed Gillian the confidence to take on more clients, with the ultimate dream of having her own bookkeeping/business coaching firm where she helps creative entrepreneurs, activists, and non-profits better understand the financial side of their business. She hopes to help her clients gain a deeper understanding and more confidence in their businesses.
In her spare time Gillian and her partner are converting a cargo van into a camper. They're looking forward to turning it into an adventure mobile they can take on road trips this upcoming summer.
About Langara
Located in beautiful Vancouver, B.C., Canada, Langara College provides University, Career, and Continuing Studies education to more than 21,000 students annually. With more than 1,700 courses and 130 programs, Langara's expansive academic breadth and depth allows students of all ages, backgrounds, and life stages to choose their own educational path. Langara is also known as house of teachings, a name given to it by the Musqueam people on whose unceded traditional territory the College is located.
Learn more.
Lisa Tuyen
Communications and Marketing
Langara College
604.323.5107
ltuyen@langara.ca