Mar 20, 2019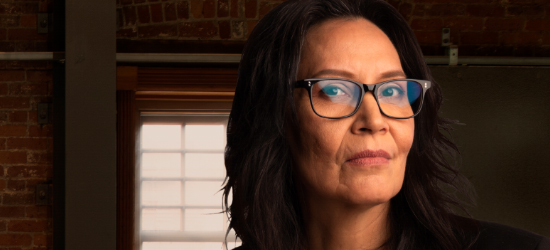 TRACEY DRAPER | SUCCESS STORY
As a Cree woman from the Peepeekisis Nation in Saskatchewan, Tracey Draper's heritage constantly influences her work. Tracey is identifying with her cultural heritage and history through storytelling using the medium of film. She loves drums and includes their sound throughout her work. An alumna from the Digital Film Production program, Tracey is currently working as a project coordinator for the Western Aboriginal Harm Reduction Society.
The Digital Film Production program is well-structured, so Tracey only had to take four months off to return to school. "The program was one of the best learning experiences I've ever had. I was introduced to industry contacts who helped me get a practicum with a TV documentary production company." She learned the importance of teamwork and organization, and how the value of pre-production ties into other elements of the film production process.
After taking the Digital Film Production program, Tracey worked on an exciting project with Deborah Holland, Program Coordinator for Langara's Singer Songwriter program. "My music video skills, particularly editing and special effects, were appreciated in the program. It was a lot of fun to work on that film with Deborah. We did a lot of green screening and Deborah was a great sport."
Working as a female DJ for many years, she was familiar with the struggle of working in a male-dominated industry. She quickly realized that there were few documentaries telling the story of women in the DJ scene. Tracey decided she wanted to bridge that gap. Her film Girl Spinnin' paid homage to the women working in a male-dominated field and required intensive pre-production, including research and interviews.
As the music composer to a scripted drama, Tracey worked on Two Indians Talking, which required unique post-production elements. During the filming of this scripted drama, Tracey worked closely with the director to understand her vision and to see how the music could contribute to the story. "I always try to enhance the feeling of the scene, almost like another character. It's a purely creative process that I love."
Not only does Tracey spend her free time working on documentaries, she also loves watching films. "I really like the indie film scene in Vancouver. There's a lot of work going on and a lot of really good indigenous storytelling happening."
In her spare time, Tracey loves to watch movies and TV shows, as she believes there's always so much to learn from watching. She also enjoys writing, recording, and editing.
View the Continuing Studies 2019 Summer Guidebook online.
About Langara
Located in beautiful Vancouver, B.C., Canada, Langara College provides University, Career, and Continuing Studies education to more than 21,000 students annually. With more than 1,700 courses and 130 programs, Langara's expansive academic breadth and depth allows students of all ages, backgrounds, and life stages to choose their own educational path. Langara is also known as house of teachings, a name given to it by the Musqueam people on whose unceded traditional territory the College is located.
Learn more.
Lisa Tuyen
Communications and Marketing
Langara College
604.323.5107
ltuyen@langara.ca 
===
Tracey Draper Cover Shoot
Photographer: Greg Blue
Asst. Photographer: Mark Gibbon
Art Director: Chris Gunn
Producer: Lisa Tuyen