Nov 15, 2018
View the Continuing Studies 2019 Spring Guidebook online.
CHRISTINE WONG | INSTRUCTOR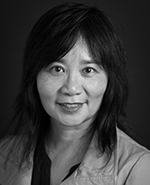 Christine Wong has been teaching Cantonese for 20 years. Originally from Hong Kong, she studied Chinese language and literature before earning a doctoral degree in educational leadership from Simon Fraser University.
"I wanted to become a teacher to share my expertise and passion," says Christine, whose research interests include Chinese philosophy, transformative learning, and lifelong education. Christine strives to teach her students more than pronunciation and grammar.
"The relationship between language and culture is multidimensional," she says. "I'm sharing a journey of cultural exploration with my students."
To be able to communicate across cultural divides, students need to understand the social and cognitive context of language.
"The dominance of the intonations, rhythms, and stresses of one's own native language can be a tough barrier to break in acquiring full fluency in another language," she explains, "but overcoming cultural difference is another challenge."
"There are an estimated 70 to 100 million Cantonese speakers worldwide, including communities outside of Asia," says Christine. "You often hear Cantonese being spoken while walking the streets of almost any local neighborhood. The classroom experience transcends the college walls," says Christine. "Cantonese connects us and expands our horizons."
Christine looks forward to the moment when her students use Cantonese in real-life situations, from chatting with an older relative to ordering tea. She loves to build relationships with her students and their families by going out for dimsum, and wandering through Chinatown.
"Teaching isn't a one-way street," says Christine. "There is always so much more to learn from one another."
Christine spoke about her theme-based approach to teaching at the Cantonese Worlds 2 (CW2) workshop at the University of British Columbia in 2018. In November 2019, she'll be sharing her knowledge as she leads a cultural tour of Hong Kong through Langara's educational travel programs.
Christine Wong is also a Certi ed Tea Master. Her ongoing projects include WALKchinatown and Leaf Behind, a cross-cultural approach to enjoying the beauty of tea and pursuing self- transformation.
About Langara
Located in beautiful Vancouver, B.C., Canada, Langara College provides University, Career, and Continuing Studies education to more than 21,000 students annually. With more than 1,700 courses and 130 programs, Langara's expansive academic breadth and depth allows students of all ages, backgrounds, and life stages to choose their own educational path. Langara is also known as house of teachings, a name given to it by the Musqueam people on whose unceded traditional territory the College is located.
Learn more.
Lisa Tuyen
Communications and Marketing
Langara College
604.323.5107
ltuyen@langara.ca