Nov 15, 2018
View the Continuing Studies 2019 Spring Guidebook online.
ROBIN POLLAK | SUCCESS STORY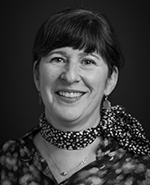 Robin Pollak first learned to type on a typewriter. While she used computers throughout her long and varied career, she felt her on-the-job experience was no longer enough.
"I enrolled in the Computer Skills for the Office program because I realized I had never taken any computer courses," says Robin. "My methods of self-teaching were inadequate," she says.
When Robin first went to school for radio and broadcasting in 1985, computers were much less prevalent in education. She hosted a current-events show on Carleton University's shortwave radio station, CKCU, while earning her Bachelor of Arts in English Language and Literature and entered the working world in 1992.
"I spent several years working with at-risk teens, as a youth counselor, and as a foster parent," she says. "There is a measure of burnout that occurs in these professions."
Robin decided to move into more administrative roles and found work at companies ranging from IT start-ups to massive oil and gas entities to a professional services firm. Her most recent positions were executive assistant roles and she knew there were more effcient ways to do her work.
"The skills and knowledge I have gained in this program have helped me immensely," says Robin. "I am much more productive."
One of the programs she struggled with the most was Microsoft Excel, which Robin found had become increasingly powerful, but also very complicated. With the support and flexibility of her instructors, she was able to successfully complete her Excel courses.
She also learned to create engaging Powerpoint presentations, new tricks to use in Adobe Acrobat, and better ways to work in Microsoft Outlook and Word.
"Technology is faster, so we need to be faster," says Robin. "The expectations in today's offices are much higher than in the past."
Robin Pollak is also a singer-songwriter and performs at local venues The Railway Club and the Cottage Bistro. She's been applying her new skills in several temporary roles while she looks for a permanent position.
About Langara
Located in beautiful Vancouver, B.C., Canada, Langara College provides University, Career, and Continuing Studies education to more than 21,000 students annually. With more than 1,700 courses and 130 programs, Langara's expansive academic breadth and depth allows students of all ages, backgrounds, and life stages to choose their own educational path. Langara is also known as house of teachings, a name given to it by the Musqueam people on whose unceded traditional territory the College is located.
Learn more.
Lisa Tuyen
Communications and Marketing
Langara College
604.323.5107
ltuyen@langara.ca