Nov 15, 2018
View the Continuing Studies 2019 Spring Guidebook online.
AISHA TEJANI | STUDENT STORY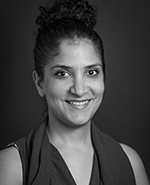 Aisha Tejani always knew that she wanted to help people, but she was unsure how. She knew early on that she enjoyed figuring out how people work and was drawn to any career that allowed her to connect with people.
After working in a variety of careers including marketing, advertising, content writing, digital marketing, and workshop facilitation, Aisha realized that there was one specific thing she enjoyed more.
"Facilitation led me to realize that I wanted a career where I could spend most of my time talking to people, and this is what led me to case management."
After an informational interview with a case manager at Drive Youth Employment Services, she suggested Aisha get her Career Development Practitioner Certificate (CDPC). Aisha enrolled in the 14-week full-time intensive Career Development Professional Program (CDPC) at Langara College, Continuing Studies.
"I joined Langara, got my CDP, applied to a case manager job, and that's what started me on my journey of case management!"
As part of the curriculum, Aisha completed two practicum placements with the YMCA. First, within the Experience Works program where she worked with clients aged 45+. She then got experience with the Youth Employment Bootcamp program where she worked with teens and young adults.
"I learned a lot about effective facilitation from this program as the facilitators I watched were incredible at creating rapport and connection while maintaining personal boundaries with clients. It confirmed that I was in a field that resonated with me because the staff at YMCA and I shared similar values."
Since graduating from Langara's CDPC program in 2017, Aisha works at MOSIAC Vancouver as a Case Manager, assisting youth in their search for employment. Aisha appreciated that Langara's class sizes were small, helping her to better focus on self-development, exploring feelings, and building relationships, all crucial skills for effective case managers.
In her spare time, Aisha meditates 40 minutes every day. She teaches mindfulness to youth with the BC Crisis Centre. She is also the founder of I am Vancouver Dog, a website that connects dog products, services and information with local dog owners.
About Langara
Located in beautiful Vancouver, B.C., Canada, Langara College provides University, Career, and Continuing Studies education to more than 21,000 students annually. With more than 1,700 courses and 130 programs, Langara's expansive academic breadth and depth allows students of all ages, backgrounds, and life stages to choose their own educational path. Langara is also known as house of teachings, a name given to it by the Musqueam people on whose unceded traditional territory the College is located.
Learn more.
Lisa Tuyen
Communications and Marketing
Langara College
604.323.5107
ltuyen@langara.ca