Nov 15, 2018
View the Continuing Studies 2019 Spring Guidebook online.
KEIGH PRY | SUCCESS STORY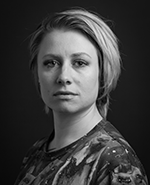 Musician Keigh Pry had considerable experience in music before coming to Langara's Digital Music Production program, from piano playing at age four to a stint on CBC's Rock Camp during adolescence, but the recent graduate felt some structure and education were required in order to move forward.
"I felt like I was floundering after taking a few years off from music," the music enthusiast recalls. "Langara's program most closely aligned with what I wanted to do and the skills I wanted to brush up on."
As a student, Keigh spent hours happily working on projects that involved songwriting and sound creation. The composer learned fun production techniques as well as basic sound engineering and mixing. One of Keigh's best memories was an impromptu recording session with some classmates, where they hung blankets everywhere and recorded vocals in the closet.
"I think the most valuable thing I learned at Langara was how to have confidence in myself and my abilities as a musician," says Keigh. "The program put me in a productive state of mind and gave me the skills I needed to progress in my career."
In 2018, PNEUMA, a film Keigh scored, played at the Vancouver International Film Festival. The musician is currently on the verge of releasing an LP, In Bed With The Enemy. The solo album was a huge undertaking; its production involved applying for a grant, assembling the songs, creating demos and song charts, hiring musicians, recording, and producing the record.
"It's a lot of pieces to fit together," Keigh recalls. "In some ways, it's easier to create something for someone else because you have guidelines you have to follow, like a roadmap for your creativity."
While the life of a working musician isn't without its challenges, Keigh is happiest when writing songs, recording, and performing.
"I think honesty makes a great song or performer," says Keigh. "If you're true to who you are and not trying to please someone else, you're going to have an audience."
Keigh Pry is currently listening to artists ranging from Olafur Arnalds to Courtney Barne and CHVRCHES as well as the new Death Cab for Cutie album.
About Langara
Located in beautiful Vancouver, B.C., Canada, Langara College provides University, Career, and Continuing Studies education to more than 21,000 students annually. With more than 1,700 courses and 130 programs, Langara's expansive academic breadth and depth allows students of all ages, backgrounds, and life stages to choose their own educational path. Langara is also known as house of teachings, a name given to it by the Musqueam people on whose unceded traditional territory the College is located.
Learn more.
Lisa Tuyen
Communications and Marketing
Langara College
604.323.5107
ltuyen@langara.ca