Nov 15, 2018
View the Continuing Studies 2019 Spring Guidebook online.
SHAUN GOOD | SUCCESS STORY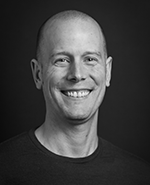 After 20 years working in information technology, Shaun Good wanted a career change. The Senior Programmer Analyst at Langara began taking accounting courses in 2013 and is two courses away from completing his Continuing Studies Diploma in Advanced Accounting.
"The Continuing Studies program provided the quickest pathway," says Shaun, whose ultimate goal is to become a Chartered Professional Accountant (CPA).
While the past few years of working full-time and studying have kept him busy, he found time to take on the role of Director of Communications with the Langara Accounting Club, working with students in the College's Bachelor of Business Administration (BBA) to organize events.
"It's been great to get an understanding of the College from both sides," he says. "It gave me a better appreciation of what the College is trying to do and how the different areas are actually helping students."
After moving to Vancouver from Australia seven years ago, Shaun also enjoyed working with students who came to Canada from around the world.
"One of the interesting things I've found is that Langara students come from so many different countries," he says. "My studies and my time with the Accounting Club have allowed me to make good friends of diverse ages and backgrounds."
Shaun found it was easy to connect with students in the Accounting Club because they were working towards the same goal he was: finding a good job they'll enjoy. Last semester, the club hosted their first networking event, bringing in representatives from various accounting firms to meet accounting students from Langara as well as other local colleges and universities.
"It was definitely fun and rewarding to be able to help with that event," says Shaun. "Getting known within a firm is such a big part of the recruiting process in this field. It was great knowing we were helping fellow accounting students make those connections."
Shaun Good is a huge Vancouver Whitecaps fan and attends as many of their home games as possible. In his spare time, he enjoys visiting the VanDusen Botanical Garden and Steveston Village.
About Langara
Located in beautiful Vancouver, B.C., Canada, Langara College provides University, Career, and Continuing Studies education to more than 21,000 students annually. With more than 1,700 courses and 130 programs, Langara's expansive academic breadth and depth allows students of all ages, backgrounds, and life stages to choose their own educational path. Langara is also known as house of teachings, a name given to it by the Musqueam people on whose unceded traditional territory the College is located.
Learn more.
Lisa Tuyen
Communications and Marketing
Langara College
604.323.5107
ltuyen@langara.ca