Jul 18, 2018
View the Continuing Studies 2018 Fall Guidebook online.
DAVE ANDERSON | INSTRUCTOR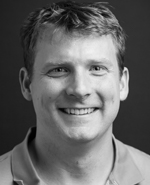 Biology instructor Dave Anderson divides his time between Langara and the University of British Columbia, where he's a post-doctoral fellow. He'll soon be combining his teaching skills and research knowledge as the program coordinator for Continuing Studies' new personalized medicine program.
"I see real value in providing education on topics I have studied through my PhD and post-doctoral work to those working in front-line health care," says Dave. "Teaching helps keep my work grounded in the broader fields to which it applies."
The idea behind personalized medicine is that large-scale, personal patient data – such as particular genome sequences, RNA, and protein measurements – can be used to help individual patients.
"Personalized medicine is an approach that recognizes each patient has a unique set of factors that could impact every stage of their diagnosis and treatment," explains Dave.
While it may seem futuristic, personalized medicine already exists. As part of their 100,000 Genomes Project, England's National Health Service recently studied the genomic data of children from families with a history of cancer. They identified which children had positive markers for general cancer development and sent them for full body MRI scans, revealing one out of every seven kids had a previously undetected tumour.
"By focusing on this data, they were better able help the people in their health care system," says Dave. "The more data we generate, the more we discover."
His own interest in the sciences began with physics and astronomy, but Dave transitioned into biology as he came to see how the same fundamental principles could be applied to understanding living systems.
"The scientific process is – as all things undertaken by human beings – fundamentally social," says Dave. "It is amazing how often valuable insights into some element of my research arose out of a moment teaching, and vice versa."
Dave Anderson holds a PhD from the University of Oregon. He balances his scientific endeavours with time outdoors with his family and two rambunctious dogs.
About Langara
Located in beautiful Vancouver, B.C., Canada, Langara College provides University, Career, and Continuing Studies education to more than 21,000 students annually. With more than 1,700 courses and 130 programs, Langara's expansive academic breadth and depth allows students of all ages, backgrounds, and life stages to choose their own educational path. Langara is also known as house of teachings, a name given to it by the Musqueam people on whose unceded traditional territory the College is located.
Learn more.
Erin Anderson
Communications and Marketing
Langara College
604.323.5746
eanderson@langara.ca