Jul 18, 2018
View the Continuing Studies 2018 Fall Guidebook online.
MARVIN MASSOUDI | INSTRUCTOR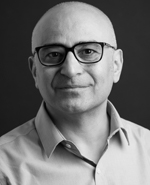 When Database Developer Certificate program instructor Marvin Massoudi earned his first degree in computer engineering, the mainframe generation of computers were starting to be replaced with desktop machines, so he's seen a lot of changes in the course of his career.
"Data volume, type, and rate of creation have profoundly changed in the past 20 years," says Marvin. "I think that we are entering a new age of producing insights rather than just information."
Currently an enterprise intelligence data analyst at Vancity, Marvin brings elements of his work into the classroom. He not only introduces students to the techniques and tools used in modern data systems, but also what insights large organizations need from their data.
"Working with data means going beyond the technology and getting to the root of a problem," he says. Many students believe that success comes from mastering a language like T-SQL, but Marvin says that is only part of the work. "Everything we do is around adding business value and the technology makes sense only in this context."
Marvin has re-designed his courses to give his students – who go on to work in database administration, data analysis, business intelligence, and data science – an experience similar to what they would get in the workplace.
"All exercises are designed not just as class projects but as modules that could be used in a code snippet library," he explains. "For example, as a final database project, students build, design, and implement a sample financial banking database."
In his own career, Marvin meets with subject matter experts and stakeholders to understand the technical requirements. He communicates with people from the customer relationship management (CRM) department, information technology, business intelligence, and even customer representatives in branches to develop a data solution.
"A data management process is like a data factory with different functioning units," he says. "A strong knowledge of the business along with robust development skills is the key to success."
In his spare time, Marvin Massoudi gardens and goes on long bike rides. He's working toward a data visualization seminar and course using Microsoft Power BI.
About Langara
Located in beautiful Vancouver, B.C., Canada, Langara College provides University, Career, and Continuing Studies education to more than 21,000 students annually. With more than 1,700 courses and 130 programs, Langara's expansive academic breadth and depth allows students of all ages, backgrounds, and life stages to choose their own educational path. Langara is also known as house of teachings, a name given to it by the Musqueam people on whose unceded traditional territory the College is located.
Learn more.
Erin Anderson
Communications and Marketing
Langara College
604.323.5746
eanderson@langara.ca