Jul 18, 2018
View the Continuing Studies 2018 Fall Guidebook online.
JEFF ELLIS | INSTRUCTOR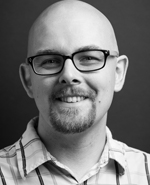 In 2008, instructor Jeff Ellis founded Cloudscape Comics, a non-profit dedicated to supporting our local graphic novel and comics community. The organization has come a long way from its humble beginnings – it now produces an annual anthology, participates in city events, provides art and comic classes, and is a fixture in Vancouver's arts scene.
"I really just wanted to make some friends and get some encouragement and feedback," says Jeff on the inspiration behind Cloudscape. "Comics can be a very isolating pursuit."
Jeff has been drawing comics for as long as he can remember, but his interest intensified in high school, when he became an avid comic reader and filled his notebooks with his favourite characters. In creating his own work, Jeff draws on real experience or anecdotes.
"I try to bring a strong sense of character into my work," he says. "The better I know my characters, the easier it is to know what they would do or how they would react."
In his courses, Jeff encourages students to reconsider the traditions of the comic medium and seek out different approaches and exciting new artists. As the art form has evolved, so has the industry around it. Whether they aspire to make their own webcomic or write a full-length graphic novel, there are many paths artists can take.
"Beyond the big three (Marvel, DC, Image), there are new opportunities at smaller publishers like Oni Press, Dark Horse, IDW, and micro presses like Black Mask and Iron Circus," says Jeff. "Kickstarter and Patreon have also made it easier than ever to get support from the public."
Despite the changing landscape of the comics industry and community, one thing remains unchanged.
"What's interesting about graphic novels is that you are reacting to words and pictures at the same time," says Jeff. "It's one of the few mediums that uses both sides of your brain."
Jeff Ellis is currently a big fan of Guy Delisle and Jillian Tamaki, but his all-time favourite comic artist is Bill Watterson, creator of Calvin and Hobbes.
About Langara
Located in beautiful Vancouver, B.C., Canada, Langara College provides University, Career, and Continuing Studies education to more than 21,000 students annually. With more than 1,700 courses and 130 programs, Langara's expansive academic breadth and depth allows students of all ages, backgrounds, and life stages to choose their own educational path. Langara is also known as house of teachings, a name given to it by the Musqueam people on whose unceded traditional territory the College is located.
Learn more.
Erin Anderson
Communications and Marketing
Langara College
604.323.5746
eanderson@langara.ca