Mar 14, 2018
View the Continuing Studies 2018 Summer Guidebook online.
KEVIN LANTHIER | INSTRUCTOR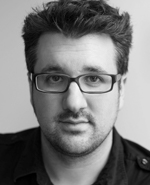 Photography instructor and Haida Gwaii tour leader Kevin Lanthier has history with the remote islands of Haida Gwaii. He spent three summers working as a photographer at a fishing resort, spending hours every day driving a boat around with his camera.
"Although my main job was taking pictures of guests fishing, I also got to spend hundreds of hours exploring the landscape, studying the breaching patterns of humpback whales, and being chased by dolphins," he says. "I felt very connected to the land and sea and wildlife there."
The islands, located off the BC coast, are known for their wildlife and ancient forests. As the last ice age receded from there about 2000 years earlier than the rest of the province, it created a unique biocultural zone that has led to its nickname: the Galapagos of the North.
"Haida Gwaii is remarkable in many ways," says Kevin. "The strong preservation of Haida culture and history makes visiting a unique cultural experience. The pace of life and remoteness makes it about as different a place as one can travel to within our own province."
Returning to the quiet beauty of Haida Gwaii will be quite a change from his life in Vancouver. An alumnus of Langara's full-time photography program, Kevin co-founded Cake Imagery, a commercial photography and retouching company in 2007, and now teaches landscape photography and Photoshop courses for Continuing Studies. In his personal practice, Kevin creates conceptual images that predominantly explore urban spaces.
"On my own, I tend to photograph places a bit more than people or things," says Kevin. "My first exhibition series, The Special, examines Vancouver's history and culture through crafted, distilled, imaginary streetscapes built from disparate constituent parts from around the city."
While the Haida Gwaii trip in August is a photography tour, Kevin says that it can also simply be a chance to explore and enjoy time in true wilderness. For the photographers, it's an opportunity to capture some stunning images. Asked what makes a great photo, Kevin replies, "If an image can make a viewer stop and feel something, anything at all, even for just a moment, then that's what you strive for – and about all you can hope for."
Kevin Lanthier recommends tour participants bring a good DSLR or mirrorless camera with a wide-angle lens for landscapes and a telephoto lens for wildlife.
About Langara
Located in beautiful Vancouver, B.C., Canada, Langara College provides University, Career, and Continuing Studies education to more than 21,000 students annually. With more than 1,700 courses and 130 programs, Langara's expansive academic breadth and depth allows students of all ages, backgrounds, and life stages to choose their own educational path. Langara is also known as house of teachings, a name given to it by the Musqueam people on whose unceded traditional territory the College is located.
Learn more.
Erin Anderson
Communications and Marketing
Langara College
604.323.5746
eanderson@langara.ca