Mar 14, 2018
View the Continuing Studies 2018 Summer Guidebook online.
JENNIFER HARDER | INSTRUCTOR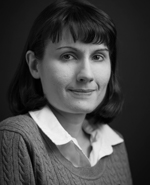 After several years as a graphic designer, Jennifer Harder enrolled in Continuing Studies (CS) courses in 2008 to expand her knowledge of web design. Now she is a published author and an instructor at Langara, teaching web design and e-publishing courses.
"I started e-publishing around 2011," says Jennifer. "I enjoyed working with Adobe software, so I decided to write a book about Adobe Acrobat and creating electronic forms using JavaScript."
She did some research into publishers and connected with Apress in New York, who published her first book, Enhancing Adobe Acrobat DC Forms with JavaScript, followed closely by her second book, Data Merge and Styles for Adobe InDesign CC 2018.
"I like both the creative and analytical side of design and coding," says Jennifer, who is proficient in both CSS and JavaScript. As a student, a favourite project of hers was a simple game she made to test whether users could see a full range of colours. She'd then show them what someone who was colour blind would see. As an instructor, she tries to create similar opportunities for students to connect with what they are learning.
"I let people express their creative ideas in the website or documents that they create," she says. "Everyone has an interest or a story that they want to share with others."
In her day-to-day life, Jennifer works for a local printer redoing files that aren't correctly set-up for printing. Her troubleshooting experience has given her considerable insight into how to solve a problem, whether in print or on the web. She views each problem as an opportunity to find a better way of doing things.
"I think every new discovery is a small triumph and one step closer to a goal," she says. "When you have been sitting for hours or days trying understand why your HTML page is not working as it should, and then you realize you left out a semicolon and it all works, you experience a feeling of relief, peace, and accomplishment all at once."
Jennifer Harder has two cats, one of which looks like a baby Wookie. She is currently working on her third book, which is about incorporating multimedia files into websites using Adobe software.
About Langara
Located in beautiful Vancouver, B.C., Canada, Langara College provides University, Career, and Continuing Studies education to more than 21,000 students annually. With more than 1,700 courses and 130 programs, Langara's expansive academic breadth and depth allows students of all ages, backgrounds, and life stages to choose their own educational path. Langara is also known as house of teachings, a name given to it by the Musqueam people on whose unceded traditional territory the College is located.
Learn more.
Erin Anderson
Communications and Marketing
Langara College
604.323.5746
eanderson@langara.ca