Mar 14, 2018
View the Continuing Studies 2018 Summer Guidebook online.
KATHLEEN WONG | INSTRUCTOR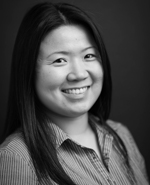 Instructor Kathleen Wong, who lends her Human Resources (HR) expertise to our General Business Management Certificate Program, started her working life in an unexpected place: the Drive-Thru window at McDonald's.
"I learned the urgency and efficiency required in a fast food restaurant," she says. "I have honed my customer service skills since then – which has helped me up to this day!"
Her work ethic also helped direct her career in HR. As a university student, Kathleen worked at a local credit union branch part-time, so when she completed her studies, finance seemed like a natural fit. She's spent the last 15 years in a variety of roles at Vancity.
"I love the fact that I work for a local organization that supports our community," says Kathleen.
While many people think of HR in terms of hiring, that is one part of quite a diverse field. As a senior consultant, Kathleen's current focus is called 'total rewards.' This encompasses employees' compensation, benefits, work-life balance, performance recognition, career development, etc.
"This aspect of HR is constantly evolving and changing," she says. "We need to continue to learn about trends and practices so that we can meet our employees' needs and support their well-being now and into the future."
In addition to her considerable professional experience in management and advising roles, Kathleen's career path has included customer service, marketing, and multiple disciplines in Human Resources (organization design, change management, leadership, compensation, etc). Her varied experience gives her a wealth of examples to draw from in her lesson plans.
"Some of the best learning for students occurs when they ask questions that reflect the practical, real-life HR situations in the workplace," says Kathleen. "There are so many 'grey area' or 'what if?' HR situations that come up on a daily basis and that's where an instructor can really add value in the classroom."
Outside of work, Kathleen loves watching our local Canucks and even stops the occasional puck as a hockey goalie. She has spoken at various conferences in BC on HR-related topics in addition to her teaching career.
About Langara
Located in beautiful Vancouver, B.C., Canada, Langara College provides University, Career, and Continuing Studies education to more than 21,000 students annually. With more than 1,700 courses and 130 programs, Langara's expansive academic breadth and depth allows students of all ages, backgrounds, and life stages to choose their own educational path. Langara is also known as house of teachings, a name given to it by the Musqueam people on whose unceded traditional territory the College is located.
Learn more.
Erin Anderson
Communications and Marketing
Langara College
604.323.5746
eanderson@langara.ca