Mar 14, 2018
View the Continuing Studies 2018 Summer Guidebook online.
DANIELA OSHIKAWA | STUDENT SUCCESS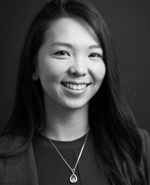 Born and raised in São Paulo, Brazil, Daniela Oshikawa was a furniture designer and freelance 3D artist before coming to Canada and enrolling in the Continuing Studies Diploma in Advanced Accounting Program.
"My first semester was a huge wave of information in a language that I rarely used," says Daniela. Not only was she adapting to a new culture and country, she also had to navigate the administrative processes required to start her education. "As an international student, everything is new to you."
Daniela decided to attend Langara shortly after arriving in Canada because of its support for international students. Here, she found plenty of students making the same transition and Canadian students who were understanding and helpful.
"I immediately felt the unity of the community here and it made me want to be part of it," says Daniela. She got involved with the VOLT volunteer program and was hired to be a Peer Supported Leader for her Financial Accounting 1 class. Through these activities, she learned a lot about other cultures and met great leaders who care about others' success.
Though she hasn't graduated yet, Daniela has already found work as an accounting clerk at Compendia, an accounting firm specializing in the film industry. Her background made her a great fit for the company, which balances accounting and the arts.
"I love working there because their values resonate with me," says Daniela. "As designers, we are always seeking solutions and innovation. In accounting, if you want to become a Chartered Professional Accountant (CPA), you need to develop a similar way of thinking."
Her experience as a self-employed artist also helps her relate to the clients. She remembers what it is like to spend so much time and energy trying to make sense of the financial aspects of a business rather than focus on the creative side. "Accounting looks like a foreign language at first," she says, much like film and design have their own vocabulary.
"If you don't speak your clients' language, how can you help them to succeed?"
Daniela Oshikawa received a $1,000 scholarship from the Chartered Professional Accountants' Education Foundation of BC in 2017. She loves to ride her bicycle on the seawall in her free time.
About Langara
Located in beautiful Vancouver, B.C., Canada, Langara College provides University, Career, and Continuing Studies education to more than 21,000 students annually. With more than 1,700 courses and 130 programs, Langara's expansive academic breadth and depth allows students of all ages, backgrounds, and life stages to choose their own educational path. Langara is also known as house of teachings, a name given to it by the Musqueam people on whose unceded traditional territory the College is located.
Learn more.
Erin Anderson
Communications and Marketing
Langara College
604.323.5746
eanderson@langara.ca