Nov 11, 2017
View the Continuing Studies 2018 Spring Guidebook online.
JULIE MCINTOSH | STUDENT SUCCESS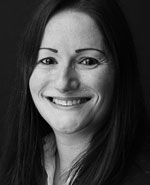 Visitors from Japan who find themselves at B.C. Place or the Vancouver Convention Centre are pleasantly surprised when they find a Canadian who – literally – speaks their language.
"I love my job because I get to meet people from all over the world," says Julie McIntosh, who works as a guest experience ambassador and event host. "When a training opportunity came up, she seized her chance to better connect with international visitors. "I immediately asked my manager which languages we needed on our team and Japanese was in the top three."
She chose to study at Langara for three reasons: we offer five levels of Japanese instruction, have a transit-accessible campus, and our evening classes fit her work schedule. While Julie had studied Spanish in high school, finding the time and energy to learn a new language while working a full-time job was a challenge. Fortunately, her dedication paid off.
"This is one of the best decisions I have ever made," says Julie. "A year later, I still love learning the language and I am amazed at how much I can communicate, read, and write."
One day, after getting stuck on a verb in an assignment, Julie felt discouraged. A few days later, she made a connection between a piece of dialogue on a Japanese reality show and a verb exception she had learned.
"In that moment, the verb meaning I had been struggling with became so obvious that I laughed," she says. "I realized that I really was absorbing everything and I was encouraged to learn even more."
Julie credits her success – she completed levels 1-4 in a year – with approaching her training as an experience rather than a task. She made new friends in class, who she texts with in Japanese, and her instructor Yoko Maruyama kept things fun with in-class exercises and games. Having lessons grounded in Japanese culture also helped Julie understand the language.
"Japan's ever-evolving culture is also shaping its writing," she says. "Japanese is truly a culturally rich and engaging language."
Julie McIntosh will be returning for Level 5 in January 2018 and is planning to speak only Japanese when she visits Japan in 2019. Her favourite word in Japanese is omoshiroi (おもしろい) which means "interesting."
About Langara
Located in beautiful Vancouver, B.C., Canada, Langara College provides University, Career, and Continuing Studies education to more than 21,000 students annually. With more than 1,700 courses and 130 programs, Langara's expansive academic breadth and depth allows students of all ages, backgrounds, and life stages to choose their own educational path. Langara is also known as house of teachings, a name given to it by the Musqueam people on whose unceded traditional territory the College is located.
Learn more.
Erin Anderson
Communications and Marketing
Langara College
604.323.5746
eanderson@langara.ca