Nov 11, 2017
View the Continuing Studies 2018 Spring Guidebook online.
JACOB TRAN | INSTRUCTOR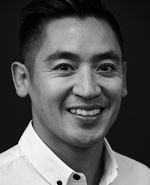 If you're ever on campus and see a small robotic elephant roaming the halls, Jacob Tran is likely running it from a nearby laptop. The Intro to Coding instructor helped create a fleet of robotic elephants that have been a huge hit with students.
"It's not every day you see a baby robot elephant lumber down the halls, lift its trunk and blow its horn," says Jacob. "Code allows us to breathe our impression of what life is into an inanimate object."
Jacob started out in the gaming industry and worked as a software engineer, but over the past 10 years, he's brought his sharp mind and technical skills to the world of education. He was a senior instructor at the Vancouver Film School, where he helped develop their game design program.
"I really enjoy crafting unique learning experiences that demystify technical challenges, empower creativity, and produce results," says Jacob. "I love when students take the initiative to try and solve difficult problems or optimize processes plaguing them at work or in their daily lives."
While he's been able to learn lessons from some of the most talented people in industry over the course of his career, Jacob's introduction to coding involved playing and modifying video games on his brother's 386 PC.
"As an instructor, you simply plant the seed, and hope that some of your passion infects the people in the room," he says.
Whether students are approaching coding as a beginner or a seasoned programmer, Jacob says that Intro to Coding won't just show them how code can be used to control robotics. They'll also gain an understanding of the processes and language behind code, which is useful even if they don't become coding masters.
"Every sector is being optimized by code and technology: medical, financial, education, entertainment, etc.," says Jacob. "It's the most important skill a young person can add to their skillset."
Jacob Tran spends his spare time rock-climbing, snowboarding and doing jiu jitsu. His fondest memory of coding was releasing his first video game.
About Langara
Located in beautiful Vancouver, B.C., Canada, Langara College provides University, Career, and Continuing Studies education to more than 21,000 students annually. With more than 1,700 courses and 130 programs, Langara's expansive academic breadth and depth allows students of all ages, backgrounds, and life stages to choose their own educational path. Langara is also known as house of teachings, a name given to it by the Musqueam people on whose unceded traditional territory the College is located.
Learn more.
Erin Anderson
Communications and Marketing
Langara College
604.323.5746
eanderson@langara.ca