Nov 11, 2017
View the Continuing Studies 2018 Spring Guidebook online.
NILUFER & SAIRA RAHMAN | SUCCESS STORY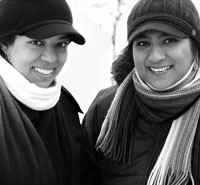 Success has always been a moving target for sisters Nilufer and Saira Rahman. Since graduating from Langara's Digital Filmmaking Program, the two women have founded their own film production company and surpassed a major milestone: producing a full-length film.
Their feature documentary Arctic Mosque, about the journey of a mosque across Canada, was broadcast nationally on CBC and APTN, which ran a version using the Inuvialuktun language. In 2015, the Canadian embassies in Sweden and Norway invited them on a screening tour, where they met with SVT (Sweden's equivalent to CBC), who broadcast Arctic Mosque later that year.
"I am most proud of Arctic Mosque," says Saira. "Not just because it was a Herculean task to produce as first-time filmmakers, but it has a strong message of hope – that it is possible for diverse people to live together as a healthy, happy community."
In their hometown of Winnipeg, the sisters have found an amazing place to work, capable of supporting independent filmmakers, and a growing movie industry in Manitoba. Their company Snow Angel Films does a mix of commissioned and independent work and many projects relate to cultural diversity and social justice.
"Growing up non-white and Muslim in Canada has meant that even though I was born here, I am always regarded as the other – different and from somewhere else," says Nilufer. "Diversity is at the heart of the human experience and film is such a powerful way to communicate unique perspectives."
When they decided to change career paths and pursue film, the Rahman sisters considered skipping training and working their way up in the film industry. Ultimately, they decided a formal education would give their careers a stronger foundation.
"Completing our own commercials, music videos, short documentaries and films – as well as crewing on our classmates' projects – prepared us for working as filmmakers today," says Saira. "Over time we could have learned how to create films ourselves, but Langara's program gave us the confidence and encouragement to do it."
Saira Rahman was previously a principal and helped establish the first Islamic school in Manitoba. Nilufer Rahman interned on CBC's comedy series Little Mosque on the Prairie.
About Langara
Located in beautiful Vancouver, B.C., Canada, Langara College provides University, Career, and Continuing Studies education to more than 21,000 students annually. With more than 1,700 courses and 130 programs, Langara's expansive academic breadth and depth allows students of all ages, backgrounds, and life stages to choose their own educational path. Langara is also known as house of teachings, a name given to it by the Musqueam people on whose unceded traditional territory the College is located.
Learn more.
Erin Anderson
Communications and Marketing
Langara College
604.323.5746
eanderson@langara.ca