Jul 10, 2017
As seen in the
2017 CS Fall Guidebook
NERISSA YAN – SUCCESS STORY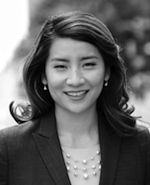 In 2002, while researching ESL programs in Vancouver from her home in Shanghai, China, Nerissa Yan discovered the Langara English for Academic Purposes (LEAP) program. It was exactly what she was looking for. Later that same year, Nerissa moved to Vancouver as an international student.
Although she was enrolled in LEAP 15 years ago, Nerissa fondly recalls her experience in the program and why she chose it over other options.
"LEAP stood out because I was specifically looking for a program that focused on helping students develop academic skills to transition into university studies," she says. "LEAP is unique from many other ESL programs offered across the country in the way that it prepares students linguistically, academically, and intellectually for university-level education. It teaches students all the necessary skill sets to have a smooth transition from not having much experience in an English learning environment to studying in a Canadian university or college."
Nerissa, who currently works as a lawyer in Vancouver, praises LEAP not only for its programming but because of the impact it has on students' lives. "What I enjoyed about the program was the fact that the teaching curriculum was carefully designed to achieve each student's goal of being prepared for university studies. LEAP instructors tried very hard to ensure that students were having an enjoyable learning experience while developing substantive skill sets."
While she remembers daily lessons being full of take-home assignments, essay-writing, and research, the diversity of the subject matter was interesting and kept her engaged. To that end, Nerissa recommends current students study hard, learn as much as they can, and ultimately enjoy their experience while laying a solid foundation that she believes will yield plenty of professional and personal dividends down the road.
"I had a very positive learning experience with LEAP. It was the launching point for me to continue my journey in Canada. It prepared me well for university studies, and later law school," she shares. "I remember looking forward to going to class every day. I developed close friendships with many classmates and remain friends with them to this day."
Nerissa Yan is a commercial litigation lawyer at Hakemi and Ridgedale LLP in downtown Vancouver. She also speaks conversational Japanese.
About Langara
Located in beautiful Vancouver, B.C., Canada, Langara College provides University, Career, and Continuing Studies education to more than 21,000 students annually. With more than 1,700 courses and 130 programs, Langara's expansive academic breadth and depth allows students of all ages, backgrounds, and life stages to choose their own educational path. Langara is also known as house of teachings, a name given to it by the Musqueam people on whose unceded traditional territory the College is located.
Learn more.
Rolf Savella
Sponsorship and Advertising
Communications and Marketing Services
Langara College
604.323.5961
rsavella@langara.ca