Jul 10, 2017
As seen in the 
2017 CS Fall Guidebook
PEGGY LOGAN – INSTRUCTOR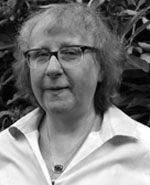 Instructor Peggy Logan has been making jewellery for decades and her dedication has never wavered. For this enamellist and artist, jewellery is a constant passion.
"Jewellery-making is an art that can be learned at any stage of life," Peggy says. "It has a very practical side and yet it can also be wholly experimental."
Peggy's commitment to jewellery-making has led to national and international recognition. In 2015, a neck piece she created earned an honorable mention at the International Cloisonné Jewelry Conference in Japan. She also received a scholarship from the Haystack Mountain School of Crafts and accepted a year-long artist residency at the Harbourfront Centre in Toronto.
"It was the most transformative experience as a jeweller," she says of the residency. "It gave me the high level of professionalism that I still have today."
Peggy's skills, experience, and knowledge make her a valuable resource to students, but it's her willingness to engage with them afterwards that makes an impression. Students that take courses with Peggy – either individually or as part of the Jewellery Making Certificate – reach out to her for private sessions, advice on projects, or feedback on their work. She enjoys running into former students at jewellery events and is excited to bring her future students into the Makerspace, a new space at Langara that encourages experiential, interdisciplinary, and peer learning outside the traditional classroom.
"Being part of the main campus is an enriching experience," she says. "I'm looking forward to learning about 3D printing and crossing over to design where ideas created on computers can manifest into metal."
Langara itself is a special place to Peggy. When she was a fine arts student at the College, she found it to be a supportive environment where she received encouragement from her instructors.
"Langara is a place of learning that has kept the joy of inquiry and discovery alive for me and others," she says. "Coming to Langara as a Continuing Studies instructor is my chance to be a part of the excellence in education that Langara provides."
Peggy Logan graduated from the Jewellery Arts Program at George Brown College in 1983. She recently exhibited in the 20th anniversary of the Eastside Culture Crawl.
About Langara
Located in beautiful Vancouver, B.C., Canada, Langara College provides University, Career, and Continuing Studies education to more than 21,000 students annually. With more than 1,700 courses and 130 programs, Langara's expansive academic breadth and depth allows students of all ages, backgrounds, and life stages to choose their own educational path. Langara is also known as house of teachings, a name given to it by the Musqueam people on whose unceded traditional territory the College is located.
Learn more.
Rolf Savella
Communications Officer
Langara College
604.323.5961
rsavella@langara.ca