Jul 10, 2017
As seen in the 
2017 CS Fall Guidebook
SOPHIA OLIVERIO – SUCCESS STORY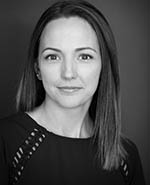 Before joining the Medical Aesthetics Certificate Program, Sophia Oliverio was a stay-athome mother, contemplating her return to the workforce. The former licensed practical nurse (LPN) wasn't sure what she wanted to do once her youngest started school full-time, until she learned about the field of medical aesthetics, which would allow her to combine her background in make-up artistry and previous medical training in a new career.
"It was a perfect match for me," she says. "I want to make people feel better inside and out."
Re-entering education after a long absence and as a single mother wasn't an easy decision. Sophia worried about whether she would be able to balance such an intensive program with her personal responsibilities, but she was pleasantly surprised.
"The teachers as well as the schedule made it manageable," she says. "I researched lots of other programs, but this one had everything I was looking for and the hours were a perfect match for my day-to-day life."
When she enrolled at Langara, Sophia was expecting to learn about the different techniques and procedures used in medical spas, but she was impressed by the amount of opportunities she had to gain first-hand experience.
"They make sure that everyone gets the chance to experience a treatment as well as give one," she says. "The hands-on aspect of the program made it easier to take the knowledge delivered in class and apply it to the clinical training on site."
One of the instructors Sophia found particularly inspiring was Jamie Gemmell, who will be returning to teach in the program this fall.
"She is very knowledgeable and has been in the industry for many years," says Sophia. "To listen to her and see how passionate she is about what she does makes me know I can do this."
After she completes her certificate, Sophia plans to work in a doctor-run medical spa. However, she doesn't see this as an end to her education. "I want to continue learning while working," she says. "It feels good knowing I can help other people — to be able to do this as well as apply my knowledge would be the perfect job."
Sophia Oliverio is a mother of two who previously worked as an LPN in a care home for veterans.
About Langara
Located in beautiful Vancouver, B.C., Canada, Langara College provides University, Career, and Continuing Studies education to more than 21,000 students annually. With more than 1,700 courses and 130 programs, Langara's expansive academic breadth and depth allows students of all ages, backgrounds, and life stages to choose their own educational path. Langara is also known as house of teachings, a name given to it by the Musqueam people on whose unceded traditional territory the College is located.
Learn more.
Erin Anderson
Communications Officer
Langara College
604.323.5746
eanderson@langara.ca