Jul 10, 2017
As seen in the 
2017 CS Fall Guidebook
LUIS RIBEIRO – INSTRUCTOR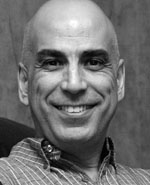 Though instructor Luis Ribeiro joined Langara Continuing Studies in 2010, his teaching experience extends further back. Luis was a full-time corporate trainer for more than 10 years, teaching everything from Adobe Illustrator to Microsoft Project.
"While I was in corporate training, I noticed how many people struggled with their day-to-day usage of Microsoft applications – even more so when they needed to perform more complex tasks," says Luis. "I decided to join Langara so that I could make a difference."
As a corporate trainer, Luis worked with a range of organizations, including the BC Security Commission, BC Liquor Distribution Branch, and the RCMP. Now, he works as a technical analyst but he still spends part of his workday teaching others.
"I am the go-to resource at my workplace, which has a staff of almost 100 employees," he says. "Because of my experience at Langara, I often know what to expect when a co-worker calls me for help."
While Luis has worked with a wide variety of programs and has a deep understanding of many more, he doesn't limit himself to teaching the technical parts of each program.
"My instructional style stimulates critical thinking. Students need to problem solve and become clear on their real objective," he says. "It's not always about which formulas to use but how a spreadsheet will help that company make informed decisions."
Luis' extensive corporate experience – both as a trainer and now a full-time analyst – allows him to bring real-world business scenarios into his lessons. Because his role includes creating management reports and performing analysis, he understands not only how to work with data but the current demands for it.
"Staying on top of technology also means you are mindful of new trends of information gathering and how business information needs are evolving," he explains.
Luis says that 20 years ago, most employers wouldn't have expected applicants to know Excel but in an increasingly data-driven world, critical thinking skills and programs like Excel are no longer optional.
"The workplace is always changing," says Luis. "Keep up!"
Luis holds a Provincial Instructor Diploma from the Ministry of Advanced Education and is a Microsoft Certified Master Instructor. His favourite program is Microsoft Excel.
About Langara
Located in beautiful Vancouver, B.C., Canada, Langara College provides University, Career, and Continuing Studies education to more than 21,000 students annually. With more than 1,700 courses and 130 programs, Langara's expansive academic breadth and depth allows students of all ages, backgrounds, and life stages to choose their own educational path. Langara is also known as house of teachings, a name given to it by the Musqueam people on whose unceded traditional territory the College is located.
Learn more.
Erin Anderson
Communications Officer
Langara College
604.323.5746
eanderson@langara.ca