Jul 10, 2017
As seen in the
2017 CS Fall Guidebook
SCOTT STEWART – SUCCESS STORY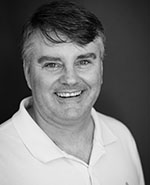 Recent Real Estate graduate Scott Stewart still remembers the uncertainty he felt on his first day of studies.
"It had been the better part of 40 years since I had voluntarily walked into a classroom setting," he says. Scott stood agonizing over where to sit – not too close to the front, lest he be labelled as a keener, but not too far back either – when the instructor walked in.
"As I sat down in my chair for the first time, panic ensued. 'What am I doing here? There will be exams and essays to write!'" he recalls.
Despite his apprehension, Scott quickly began to thrive in his chosen program. The former engineering technician went on to earn two certificates – Property Management and Professional Building Manager – and won a scholarship from the Real Estate Institute of British Columbia for Academic Excellence in Business Communications.
"The combination of teaching prowess, real world experience, small class sizes, and a genuine passion for teaching was – and is – the hallmark of the Real Estate Program," says Scott. "One may excel in this world with only 'book smarts' or 'street smarts', but Langara provided a disciplined balance of the two."
"As I progressed through my studies, I gradually became aware that the calibre of instruction and course material was the very best that one can find," he says. "My classmates and future colleagues were also a source of inspiration, drive, and perspective."
Scott came to Langara after an injury forced a career change. He approached his situation with characteristic gusto. Working with his vocational rehab team, Scott put together a 79-page document for WorkSafe BC outlining the program at Langara and how it would lead him to new employment opportunities.
Today, he is the Operations Manager for The New Chelsea Society, one of the leading non-profit housing providers in British Columbia. The learning curve has been steep, but Scott feels both deep satisfaction and immense pride in being part of such a caring organization.
"I could not be happier, more fulfilled, and excited about my future," Scott enthuses. "I now begin the next chapter in my life with gratitude for all those who have shared in this journey."
Scott Stewart finished his 2016 school year with a 4.0 GPA. Though all of his instructors were fabulous, Nizam Dossa and David Karkut stand out in his memory for their dedication, enthusiasm, and innate ability to put the class at ease.
About Langara
Located in beautiful Vancouver, B.C., Canada, Langara College provides University, Career, and Continuing Studies education to more than 21,000 students annually. With more than 1,700 courses and 130 programs, Langara's expansive academic breadth and depth allows students of all ages, backgrounds, and life stages to choose their own educational path. Langara is also known as house of teachings, a name given to it by the Musqueam people on whose unceded traditional territory the College is located.
Learn more.
Erin Anderson
Communications Officer
Langara College
604.323.5746
eanderson@langara.ca