Jul 10, 2017
As seen in the 
2017 CS Fall Guidebook
BILL GALLOWAY – INSTRUCTOR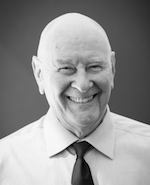 Bill Galloway leads a life well-lived. Born in Johannesburg, South Africa, the accounting instructor first came to Canada in 1973 to earn a doctorate degree at Queens University. Since then, Bill has worked in the manufacturing industry for 30 years, taught at Langara for 12 years, wrote a book about his grandfather's life in Ghana, and – in his late sixties - has recently qualified to be a fitness instructor.
It was early on in his educational career that Bill discovered his love of instructing. As a grad student, he enjoyed teaching undergrads, but it took a fortuitous meeting with Lynn Kitchen, manager of the Continuing Studies business programs, for him to become an instructor at the College. He's been enjoying his experience ever since.
"Being an instructor at Langara has been an honour," Bill says. "I've developed personally by watching students who have had many constraints on their lives – children, caring for parents, and holding down day and night jobs – come to class cheerfully."
Bill knows the importance of quality instruction and how an instructor who goes beyond teaching the curriculum can significantly impact the life of a student. It's this belief that guides his teaching style; something he learned when he was a university student new to the country.
"As an immigrant, there were many cultural differences from my home and my upbringing, and I felt I didn't belong here or in grad school," Bill says. "I wanted to leave. But a very wise counsellor told me I had a place in the school, that I could do this, and she gave me some perspective about my amazing opportunity. She was right and I stuck it out. I received such kind assistance when I was a new student in Canada; hopefully I can pay some of that forward."
When asked what he wants his students to get from his courses,
Bill emphasizes the value of life skills. "I want students to become confident enough to take a stand and defend their point of view to anyone. Accountants and many other professions expect their members to give convincing presentations," he shares. "More important than the technical skills in accounting, I want my students to become fluent in explaining their points of view. It's a necessary skill for the profession and in life, generally."
Dr. William Galloway, CPA, CGA, currently teaches Management Information Systems and Management Accounting 1. His book about his grandfather, A Canadian Scotsman in Africa, was published in 2016.
About Langara
Located in beautiful Vancouver, B.C., Canada, Langara College provides University, Career, and Continuing Studies education to more than 21,000 students annually. With more than 1,700 courses and 130 programs, Langara's expansive academic breadth and depth allows students of all ages, backgrounds, and life stages to choose their own educational path. Langara is also known as house of teachings, a name given to it by the Musqueam people on whose unceded traditional territory the College is located.
Learn more.
Rolf Savella
Sponsorship and Advertising
Communications and Marketing Services
Langara College
604.323.5961
rsavella@langara.ca