Apr 7, 2017
As seen in the
2017 CS Summer Guidebook
JAMES NEUFELD – INSTRUCTOR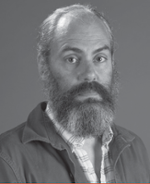 In his first office job in Vancouver, James Neufeld regularly found himself unexpectedly helping out colleagues with their computer problems. While it wasn't part of his job description, James discovered that troubleshooting computer issues came easy to him, and moreover, that he was good at teaching his peers how to fix them. It was then that James first became an educator, which ultimately led him to become an instructor with Langara Continuing Studies.
In the 90s, the Internet was in its infancy, and while it had many detractors, James recognized its potential. He decided to shift his career towards education and began classroom teaching, sharing his knowledge and enthusiasm for the Web.
As his teaching career developed, so did his instructional style. "I've learned a lot about myself and others through teaching," he says. "Whenever possible, I like to keep my classes laid back and foster dialogue. Students add so much to a classroom. We can learn better when we're not anxious or frustrated. It's important to be relaxed as technology can be frustrating at times."
For 25 years as a continuing education instructor, James has taught everything from web design and Internet marketing to HTML/CSS, WordPress, and Photoshop. While software and technology are always changing, James' approach remains consistent: teach foundation, best practices, and key concepts because they last a lifetime. By doing so, James believes students will be better prepared to succeed in a field that values both versatility and specialization.
"The pace at which technology is changing is increasingly fast. A colleague of mine recently told me that if it's under two years old, don't bother with it yet, and if it's over five years old, forget it," he explains. "We can't be experts at everything and it's important to know where to focus our attention. A diverse skill set is increasingly important. Developers are learning design while designers are learning code. It's getting very specialized and yet there's so much crossover."
This challenge of navigating an ever-changing technological landscape with new innovations, platforms, and software programs gives credence to James' belief that those interested in the field should commit to lifelong learning. "I can be a cheerleader and coach but the student has to have the desire to keep learning on their own."
James Neufeld is currently pursuing personal and professional development in digital SLR photography, HTML5, CSS3, WordPress theme development, mobile site development, and visual communication and design.
About Langara
Located in beautiful Vancouver, B.C., Canada, Langara College provides University, Career, and Continuing Studies education to more than 21,000 students annually. With more than 1,700 courses and 130 programs, Langara's expansive academic breadth and depth allows students of all ages, backgrounds, and life stages to choose their own educational path. Langara is also known as house of teachings, a name given to it by the Musqueam people on whose unceded traditional territory the College is located.
Learn more.
Rolf Savella
Communications Officer
Langara College
604.323.5961
rsavella@langara.ca