Apr 7, 2017
As seen in the
2017 CS Summer Guidebook
TAYMAZ SABA – SUCCESS STORY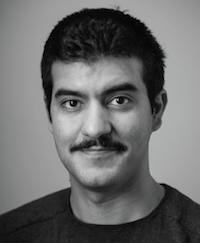 Taymaz Saba was raised in an artistic family and started learning how to play the piano at the age of six. The early experience was invaluable for the Tehran-born artist - it marked the beginning of a musical career that has seen him develop his craft in countries around the world including Iran, India, and France. Since childhood, Taymaz has amassed a wealth of musical knowledge through practice, work, and education. He most recently completed Langara Continuing Studies' Digital Music Production full-time program.
It was a close friend who told Taymaz about the music programs offered at Langara. "I enjoyed the entire program," he shared. "The most valuable thing for me was my instructor's intentions and different approaches. I learned many techniques, especially in audio engineering." Coming from a classical background, Taymaz was challenged by the equipment and programs used in digital music production, but this also allowed him to explore his creativity and take his art in different directions. "I was always composing in classical form using different musical theory techniques. One day, I decided to do a house remix of a small choir that blew the class away. No one expected that. It was so much fun."
Taymaz is a composer, conductor, singer, and sound artist who finds inspiration in classical composers like Vivaldi and Beethoven, film composers like Nino Rota and Ennio Morricone, and from the sounds of nature. His sophisticated musical taste undoubtedly comes from exposure to art and music at such a young age. While this is a credit to his parents, Taymaz is also grateful to his older sister, his girlfriend Sahra, and his circle of friends for their support throughout his career. "I owe everything to my family and friends," he expresses. "My dad has always been my number one artist, my mom has helped me with everything, and my older sister has always been there for me. A special mention also goes to Ann Marie Fleming and Maryam Najafi for being very supportive of my work."
Taymaz' musical works are products of his lifelong education and personal experience. He has traveled the world studying Iranian, Indian, African, and Brazilian music traditions and believes that this cultural knowledge, coupled with an educational background in music history, theory, and musicality among other things, equates to a valuable set of skills ideal for producing remarkable work.
"Music is very personal to me. It's emotional, and I create music based on my emotions," he says. "But I also know that I have to consciously think about what I'm doing when I'm arranging, mixing, or recording music in order to bring the sound to life."
Taymaz Saba has worked on over 30 films including Ann Marie Fleming's festival favorite, 'Window Horses' – his first film as the full score composer. He is nominated for a 2017 Canadian Screening Award for Achievement in Music – Original Score. www.taymazsaba.com 
About Langara
Located in beautiful Vancouver, B.C., Canada, Langara College provides University, Career, and Continuing Studies education to more than 21,000 students annually. With more than 1,700 courses and 130 programs, Langara's expansive academic breadth and depth allows students of all ages, backgrounds, and life stages to choose their own educational path. Langara is also known as house of teachings, a name given to it by the Musqueam people on whose unceded traditional territory the College is located.
Learn more.
Rolf Savella
Communications Officer
Langara College
604.323.5961
rsavella@langara.ca