Nov 7, 2016
As a volunteer firefighter for Squamish Fire Rescue, David Gillis had responded to cardiac arrest calls before, but this one was noticeably different. Shortly after David arrived on the scene, it hit him like a truck; a severe reaction caused by a strong odour. It triggered a memory from a traumatic event he had experienced six years prior and the emotions overwhelmed him. But as a first responder, David fought to keep them in check, continued to perform his emergency protocols, and maintained his composure. "That's what many first responders do. We react to situations and stay strong because people are depending on us." It was an experience he never had before and one he would never forget.
David is now more aware of what he experienced back on that emergency call in 2013. "I wasn't prepared. I just did what I usually do and told myself to suck it up, deal with it, and move on." It's common for first responders to fight back these emotions, David says. "Many of us don't know how to deal with repeated exposure to trauma. We're not equipped, instead we keep busy, avoid the problem, or deny it exists as we slowly start to exhibit PTSD tendencies." It's taken David a while to develop this awareness. Over the years, he's had to deal with many traumatic events from stressful work environments, distressing childhood memories, and other life experiences. "PTSD is complex," he explains. "Traumatic events compound over time. It's critical to develop self-awareness, to get the tools needed to help prevent the onset of PTSD, and to learn resilience techniques that will help keep us grounded and balanced."
It was Langara's Strategic Resilience for First Responders Program that finally gave David the education he needed to help deal with his PTSD. "This program is different because it's holistic," he says. "It doesn't just focus on healing the mind; it also addresses what stress does to your entire body. It mixes Western neuroscience with Eastern philosophies and helps develop resilience techniques you can use on the job. And because the program takes place over an extended period, it allows for self-reflection and inner change, unlike shorter workshops."
David believes the program is not only for first responders with PTSD, it's also for people susceptible to developing it or interested in entering a field with high exposure to trauma. When asked about what he's learned, he remarks, "I've learned how to observe. Instead of reacting, I now have the ability to take a step back, recognize what's happening to me, and use helpful coping techniques to regulate my nervous system. The way this program has impacted me has been life changing."
While the education has been a large part of his journey, David could've never gotten this far by himself. "When I talk about how PTSD fuels isolation and how important social connection and support is, I keep forgetting to mention the most important person in my life. The one who has been by my side, the one who jumped into the deepest, darkest hole I have ever dug, the one who helped show me the way out as I put my head down, continued to dig, and refused to listen. That person is my wife. We've been together for 37 years now and all of my traumatic experiences, abnormal behaviours, and PTSD are by far the toughest things we've had to deal with," he shares. "I forget to mention her when I talk to people; that's me making poor connection and recognition. But every time I speak about the positive experiences I've had and the help I've been receiving, it's my wife who's been the most influential, the one who jumped into my hole and stood by me. I don't think I can ever give her enough credit but I can sure try, and I have to do it much more often than I currently do."
David Gillis is a husband, a parent, and a grandparent. He serves as a volunteer lieutenant firefighter with Squamish Fire Rescue. He is a graduate and instructor in the program.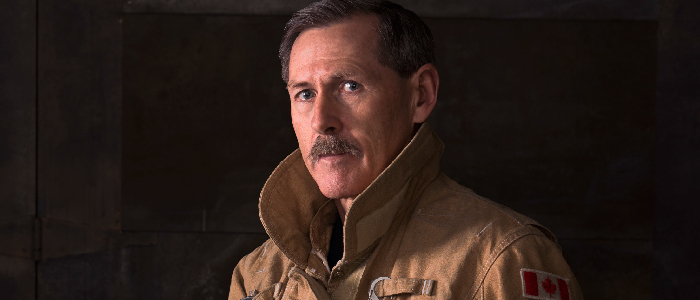 About Langara
Located in beautiful Vancouver, B.C., Canada, Langara College provides University, Career, and Continuing Studies education to more than 21,000 students annually. With more than 1,700 courses and 130 programs, Langara's expansive academic breadth and depth allows students of all ages, backgrounds, and life stages to choose their own educational path. Langara is also known as house of teachings, a name given to it by the Musqueam people on whose unceded traditional territory the College is located.
Learn more.
Rolf Savella
Communications Officer
Langara College
604.323.5961
rsavella@langara.ca