Oct 3, 2016
With so many Langara students doing or going on to do great things in our communities, every-so-often we like to bring them some attention and share their success stories. This time around, we chatted with alum, Melody Cherpaw about her experience in the Yoga Teacher Training Program and what she's been up to nowadays.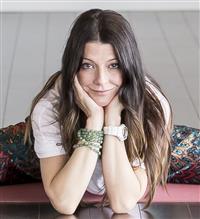 Name: Melody Cherpaw 
Graduated: February 2013 
What inspired you to take the Langara College 250-hour YTT?
During a visit to the Sivananda Ashram, in South India, I decided I would pursue my YTT. After two decades of practicing and studying yoga, I knew for me authenticity was the most important criteria in selecting a program.
How did the training make a difference for you?
I learned how to step back into the beginner's mind after so many years of practicing. This has had an enormous impact of my offerings to the students that practice with me. Through this journey, I've become more present and in the moment allowing me to be more effective at sharing the knowledge and holding the space for those on their healing journey.
What would you say to anyone who might be considering the training?
After study and practice in India, I wasn't sure I would find a school that aligned with what I was looking for, unless I was in India. I was pleasantly surprised to see how Langara beautifully integrates the authenticity of the ancient yoga knowledge within a proper academic setting.
Where are you teaching now?
In June of 2016, I opened a private ocean side studio, Mantra Yoga & Wellness in West Vancouver. In this retreat like setting, I offer weekly yoga classes, progressive yoga series, workshops and private sessions. I also offer Workplace Wellness & Lunch Hour Yoga programs across the Lower Mainland.
Thanks for your time, Melody!
We'd love to showcase the accomplishments of our Langara Continuing Studies students, alums, and instructors. Interested in being featured or know someone who should be in the spotlight? Please email us at production@langara.ca for more information.
About Langara
Located in beautiful Vancouver, B.C., Canada, Langara College provides University, Career, and Continuing Studies education to more than 21,000 students annually. With more than 1,700 courses and 130 programs, Langara's expansive academic breadth and depth allows students of all ages, backgrounds, and life stages to choose their own educational path. Langara is also known as house of teachings, a name given to it by the Musqueam people on whose unceded traditional territory the College is located.
Learn more.
Rolf Savella
Communications Officer
Langara College
604.323.5961
rsavella@langara.ca