Jul 11, 2016
Lanaya Flavelle was shy as a child, and being creative was the best way for her to express herself. Thanks to her mother who was an artist herself, Lanaya developed a love for art at a very young age. She credits this early exposure for helping her find not just photography, but a purpose and a voice as well.
At age 12, Lanaya started taking pictures with her parents' camera, shooting photos around the house and on vacations. She eventually bought her own camera and held photo shoots at school, using friends as models, makeup artists, and stylists. It was her first taste of fashion photography.
Recalling her childhood, it was inevitable that Lanaya would gravitate towards her chosen field. She remembers looking through her mom's fashion magazines and how she used to rip out pages, study the photos of the women in them, and be fascinated by their femininity.
It wasn't until a few years into her photography career that Lanaya remembers feeling torn between her passion and what she felt was right. Unrealistic portrayals of 'perfect' women had a negative impact on her self-confidence and source of inspiration. But instead of distancing herself from photography, she used it as a medium for her message, and it was a turning point in her career.
As a Langara Continuing Studies Photography student, Lanaya participated in an exhibit at the college called 'The Refinery', and her series, called 'Woman,' showcased women as strong, fearless role models. One particular photo featured a curvy woman shamelessly and unapologetically pushing over a mannequin. The photo went viral, and it showed not only how much the world needed body-positive images but how Lanaya could use her craft to share her message and affect change. Her voice spoke loud and clear, and her style continues to develop.
"I've become very focused on showcasing diversity and body positivity in my work – but my photographic style is hard for me to define. I suppose it's a mix of everything that inspires me: classic femininity and unconventional beauty, a swipe of red lipstick and a feminist documentary, Frank Sinatra and Marilyn Manson. It's classic but dark, elegant but rebellious. It's this unorthodox cocktail of things that appeal to me and shape my personal style, and my photographic style, into what it is."
Lanaya Flavelle is a fashion photographer and magazine editor of a fashion-meets-charity publication called Refashion Book, which raises awareness & donates proceeds to a different cause with each issue. Learn more at www.lanayaflavellephotography.com.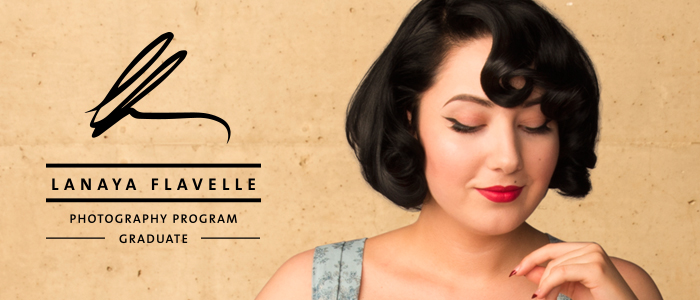 About Langara
Located in beautiful Vancouver, B.C., Canada, Langara College provides University, Career, and Continuing Studies education to more than 21,000 students annually. With more than 1,700 courses and 130 programs, Langara's expansive academic breadth and depth allows students of all ages, backgrounds, and life stages to choose their own educational path. Langara is also known as house of teachings, a name given to it by the Musqueam people on whose unceded traditional territory the College is located.
Learn more.
Rolf Savella
Communications Officer
Langara College
604.323.5961
rsavella@langara.ca