Sep 25, 2013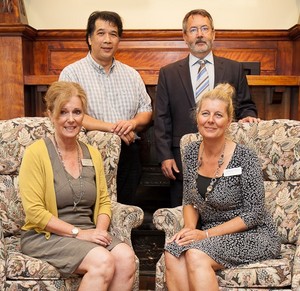 Raymond Chow, Program Coordinator, Computer Technology at Langara; Dan Thorpe, Dean, Continuing Studies at Langara;
Margaret McNeil, CEO, Canuck Place; Leanne Freeman, Director, Volunteer & Support Services, Canuck Place.
Vancouver, BC - Langara College Continuing Studies is proud to announce an inaugural partnership with Canuck Place this fall.
Langara will provide Canuck Place with fee-waived computer courses for two staff and two volunteers each semester, making the college Canuck Place's Official Training Partner. The goal of the program is to provide opportunities for continued professional development for Canuck Place staff and volunteers.
"We extend immense gratitude to Langara College for this gift of education to our staff and volunteers," said Margaret McNeil, Canuck Place CEO. Canuck Place has over 300 volunteers who provide over 23,000 hours of support annually. Langara's gift of education supports our development goals for staff and also for volunteer recognition.
"It is a pleasure to support the incredible work done by Canuck Place by becoming their educational Official Training Partner. Our partnership reflects both Langara College's commitment to the Vancouver community and Continuing Studies' devotion to lifelong learning," said Dan Thorpe, Dean, Continuing Studies. "I am truly awed by the great work that the Hospice volunteers do and very glad that we can provide the education to help them take their skills and knowledge to the next level."
About Canuck Place
Canuck Place Children's Hospice is British Columbia's pediatric palliative care provider, delivering care in respite and family support, pain and symptom management, art, music and education, recreation therapy, grief and loss counselling and end-of-life care to over 450 children and teens with life-threatening illnesses and families throughout British Columbia.  Abbotsford will be the second facility in the province to offer Canuck Place's specialized pediatric palliative care within a home-like environment and year-round, 24-hour consultation support.  With caring, professional staff and over 300 volunteers, it is a place for children and families to come in their time of need.  For more information, please visit www.canuckplace.org.
Learn more.
Mark Dawson
Communications Officer
Communications & Marketing
T 604.323.5702
mdawson@langara.bc.ca
L-R: Canuck Place Unit Clerk Debra Martin, Canuck Place food services staff member Roxana Barbieri, and Canuck Place volunteer Louise Chang will be taking Langara courses this fall.