Jun 4, 2013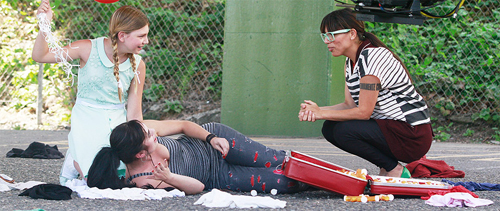 A still from Sarah Lipi's film "The Passage". Photo courtesy of Sarah Lipi.
Vancouver, BC – Langara film graduate Sarah Lipi has been nominated for two awards at the 2013 Madrid International Film Festival. She is nominated in two categories for her film The Passage: Best Foreign Language Short, and Best Director of a Foreign Film.

"The idea of my film came into my mind seven years ago when I was still living in Brazil," said Lipi. "I decided to shoot it while I was at Langara and everybody thought that this project was very ambitious."
Lipi completed the Continuing Studies Digital Film Production course in September, 2012. She shot the entire film in just four days across Vancouver and New Westminster.

"Sarah's background in photography and set decoration helped her realize her highly visual and surreal graduation film," said Annat Kennet, Digital Film Program Coordinator. "Her work is an outstanding example of what can be achieved in the Digital Film accelerated training program."

Filming was not without challenges: this was Lipi's first time working with a large crew, cast, city bylaws, and short deadlines. In order to fill the positions she needed, Lipi used Craigslist to find people willing to work on the film.

"I learned some great tips that I needed from instructors to make my film successful," said Lipi. She singled out classes in production, script writing, photography, and storyboarding as essential. "The courses were short, but they gave me the confidence to go out there and shoot it!"

The film previously screened at the Spokane International Film Festival, February 1 – 10, in Spokane, Washington. It received a Royal Reel Award in the Canadian Film Competition at the Canadian International Film Festival in April.

The Madrid International Film Festival runs July 1st – 6th.
Learn more.
Mark Dawson
Communications Officer
Communications & Marketing
T 604.323.5702
mdawson@langara.bc.ca