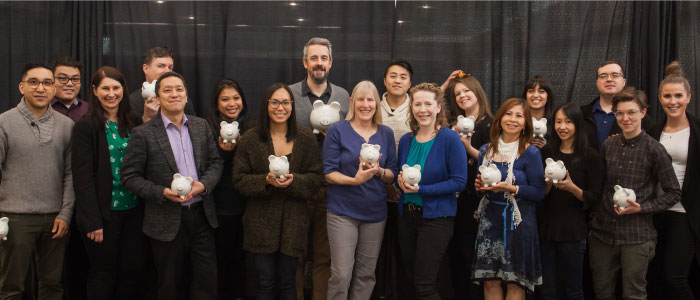 Our employees help make Langara extraordinary every day. 
Langara is a remarkable place. Each day, we see the positive impact of quality education as our students grow in confidence, recognize the opportunities ahead, and realize their potential.
Thanks to you, our students go on to do amazing things. Each day, you are giving of your time and talent to help change their lives. Many of them make incredible sacrifices to get the education they need, want, and deserve. You help them succeed.
From the success of our annual Support Our Students (SOS) celebration to the many scholarships created by our employees, the spirit of giving is alive at Langara. Many Langara employees go above and beyond to contribute to scholarships, bursaries, and projects that help us ensure that every student has the support they need to complete their educational journey.
In 2017, our community raised almost $135,000 to support student success and College initiatives. Learn more about the impact of employee giving in 2017. 
Join our employee giving program and help deserving students achieve their dreams. Together, we have the power to change our students' lives.
How to give
Choose a payment option and gift amount that works best for you


Make a monthly gift by payroll deduction or credit card
Make a one-time gift  

Choose a fund that matches your passion and interests – support a project, an existing scholarship or bursary, or create a new award with your colleagues. It's up to you!
Complete the online giving form below or email foundation@langara.ca if you have any questions