Nov 24, 2018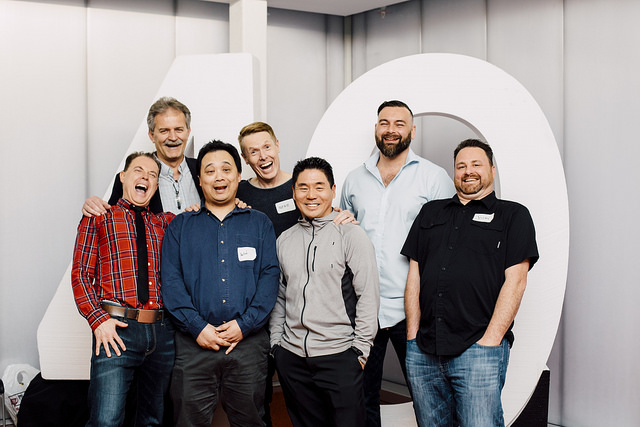 Vancouver, BC – Langara Athletics and Intramural held its annual Falcons' Alumni Celebration event on November 22, 2018. The event was held on campus in the Science & Technology Building. Over 70 Falcons alumni, current athletes, current and past coaches, and Langara employees attended the event. 
"It was wonderful to welcome so many former Falcons' back on campus," said Jake McCallum, director, Athletics and Intramurals, Langara College. "We had representation from all our old teams from basketball and soccer to golf and volleyball. It was really great to see athletes from across generations connect especially as we launch into Langara's milestone anniversary year of celebration." 
This year's Falcons' Homecoming event  spotlighted the 25th anniversary of the Falcons Men's soccer team's back-to-back CCAA Championship wins in 1992/93 and 1993/94 and the fundraising launch for the Kevin Hanson Scholarship fund. This scholarship marks the establishment of the fourth named awards aimed at supporting student athletes, the Duncan McCallum, Theresa Hanson, and Marc Rizzardo scholarships being the others.
"Kevin has had a profound impact on Langara as a student athlete, instructor, and coach," said Moira Gookstetter, Executive Director, Langara College Foundation. "As the former coach of the men's basketball team, he led the Falcons' to five BCCAA provincial championships and two CCAA national championships. To honour his contribution to the community, a group of Kevin's supporters and former student athlete, known as the Starting LineUp, has come together to fundraise and create a new scholarship to support student athletes at Langara. What an amazing way to commemorate Kevin's legacy at Langara." 
Check out the Falcons' Homecoming Flickr Gallery.
For more info on the Kevin Hanson Scholarship or Langara Athletics & Intramurals.
Learn more.
Yvonne Ohara
Manager, Alumni & Community Engagement
Langara College
alumni@langara.ca