Sep 5, 2016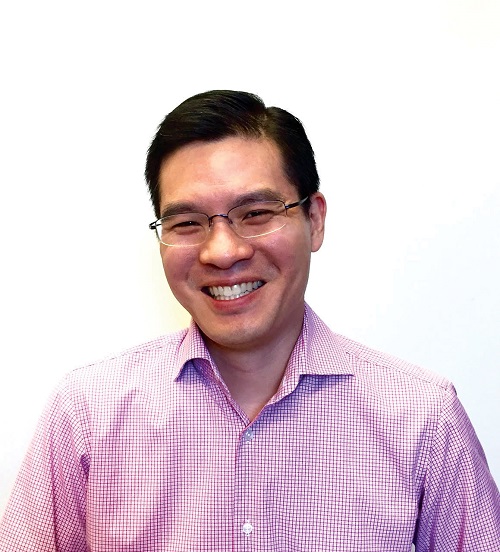 A graduate of Langara's prestigious Studio 58 program, Jeffrey is a writer, patron of the arts, and the current Associate Director, University Advancement at Simon Fraser University. 
Recently, the Orange Peal (OP) had the opportunity to check-in with Jeffrey to see what he's been up to.
Orange Peal (OP): Thanks so much for taking the time to speak with us.  What was your Studio 58 experience like?
Jeffrey Hsu (JH): I had a very long and complicated journey through the program, which I entered twice. The first time was in 1999 as an acting student, having auditioned in Montreal for Jane Heyman (former Associate Director). I struggled through the program except for physical theatre with Wendy Gorling, which was a playground for what I now understand was my right-brained need to tell stories, married to my left-brained need to do so technically. I eventually left school during my second year and was encouraged to come back in 2001 into a somewhat in-between program called "variety" which was not quite performance and not quite production.
OP: What was it that turned you on to writing?
JH: I remember reading through dozens of plays as a student and finding little that represented the complexities and nuances of my life experiences. Studio 58 had mandatory writing classes, most of which I suffered through until they hired Aaron Bushkowsky who taught the fundamentals of story structure.
I continued to study writing after graduation and never forgot what I learned at Studio 58, not only from Aaron, but also from the wild and demanding roster of instructors and students in my classes and apprenticeships. Every class was about telling stories and what those stories said about our values.
OP: You're currently the Associate Director of University Advancement at SFU. Did you have the opportunity to work in theatre after graduation?
JH: In my final terms, I was given opportunities to work with alumna Carmen Aguirre at the Firehall Arts Centre and to apprentice at the Vancouver Playhouse Theatre Company. After graduation, I apprenticed further with the Arts Club, on both their Granville Island and Stanley Theatre stages, and with Bard on the Beach. I met alumni of Studio 58 in every one of those productions.
I then took a year off to work with a friend at the University of British Columbia (UBC), but never returned to theatre. 
However, I continued to write. Aaron Bushkowsky had been a graduate student at UBC while he was teaching at Studio 58, and he had mentioned its writing program. I was itching to do something creative and expansive, so I pursued some casual courses at the UBC Writing Centre. I then assembled a portfolio and applied formally to the Creative Writing Program.
OP: You've received notice for your writing (Editor's Choice, Arc: Canada's National Poetry Magazine, 2007; Finalist for Poem of the Year, Arc: Canada's National Poetry Magazine, 2010; Longlist, 5th Annual Hot Shot Shorts Screenplay Contest, 2012). How do you think your time in the program influenced your creative writing process?
JH: A creative writing workshop is one of the most intimidating human experiences, even more so than an acting class with Kathryn Shaw. I had developed a resilient creative process at Studio 58 where I was encouraged to simply listen to feedback, say "thank you", then go off and make decisions on which notes to develop further and which to discard. That's pretty much how I survived UBC: I was naïve enough to approach my education with curiosity, but mature enough to know my own process and what would work best for my voice.
OP: What value do you think theatre arts training brings to a more traditional workplace?
JH: When I've worked with colleagues outside of theatre and have been asked for advice, my first question has been "What does your gut tell you?" We are often conditioned to second-guess our instincts, sometimes to follow someone else's agenda, sometimes to make us popular and fit in. Studio 58 requires that each student, whether they study performance or production, recognize their unique instincts and accept new ideas. While failure is inevitable, so is discovery. It's a program that develops a person's wisdom through practice and discipline.
OP: You continue to be a strong supporter of Studio 58. What prompts you to give?
JH: I was thrown into stage-managing the fourth-term project (now called the Risky Nights series) without having had any stage management experience. I constantly received notes and thought I was failing. Then I was awarded the David Pritchard Memorial Scholarship for Excellence in Stage Management. It was what I'd politely call a cognitively dissonant moment. I recognized that a number of donors had scraped together the funds to create the award, and that I now had a duty to honour the legacy of David Pritchard at some point in the future.
Studio 58 emphasizes a responsibility for the ensemble and community. So over the next years, whenever Studio 58 announced a campaign or made a special appeal, I would give. It was important that I invested in this program that meant a lot to me, and that I stood up for this community of artists that had changed my life and how I perceived the lives of others.
OP: You recently set up the Studio 58 Writing Award. What inspired you?
JH: In March 2016 Kathryn Shaw gave an interview on vancouverpresents.com and discussed Studio 58's need to address diversity in the students they recruited and in the audiences that attended productions. She not only mentioned diversity in the way we've come to understand it now—in terms of a person's background—but also to "reflect more diversity in the selection of the materials the students work on."
My pattern of giving for the last several years indicated that I had an opportunity—even at a moderate income—to create something to address this need. While Studio 58 doesn't have a formal writing program, so many voices have come out of that basement. This was a chance to support, recognize, and honour them.
OP: What's your vision for your award?
JH: The Studio 58 Writing Award encourages an emerging theatrical voice. It doesn't matter whether that voice is fully mature and polished so long as it provokes, challenges, and moves the human heart. Studio 58 teaches students to take huge creative risks, so there will be many possible candidates. The risks that they might take could range from the loud and complex to the quiet and simple.
I also hope that the award inspires others to consider gifts to Studio 58, whether by adding to this award, through contributions to other awards, or by creating new opportunities to address the program's and students' most urgent needs. We have a shared responsibility to ensure that artists and performing arts professionals have access to quality programs, and that we encourage them as they pursue a personally and professionally difficult path. We need their voices in our community, and we need to support them.
OP: Thanks so much for sharing your story. We look forward to hearing more about your projects in the future.