2021 Giving by the Numbers
Over $309,000 (after matching) was raised by our employee community (current employees, retirees, board and advisory committee members) to support student success and college initiatives
34% of current employees give to the College
2021 Fundraising Highlights
As a community we achieved a lot in 2021, here are a few highlights: 
Employees raised $43,000 and supported 1866 students through the hamper program.
179 nominators sent a Golden Apple to 756 employees totalling 2063 messages and raising $6,078 in the process!
Two online auctions hosted in Spring and Fall raised a total of $17,253 with 149 bidders taking part in the fun.
The Community Cupboard provided over 2037 bags or the equivalent of 42,777 meals for students.
34% of all employees donate to the College. An increase of 14% since 2020.
Langara employees and retirees created 11 awards.
See our 2020 report here. 
Learn more about employee giving at Langara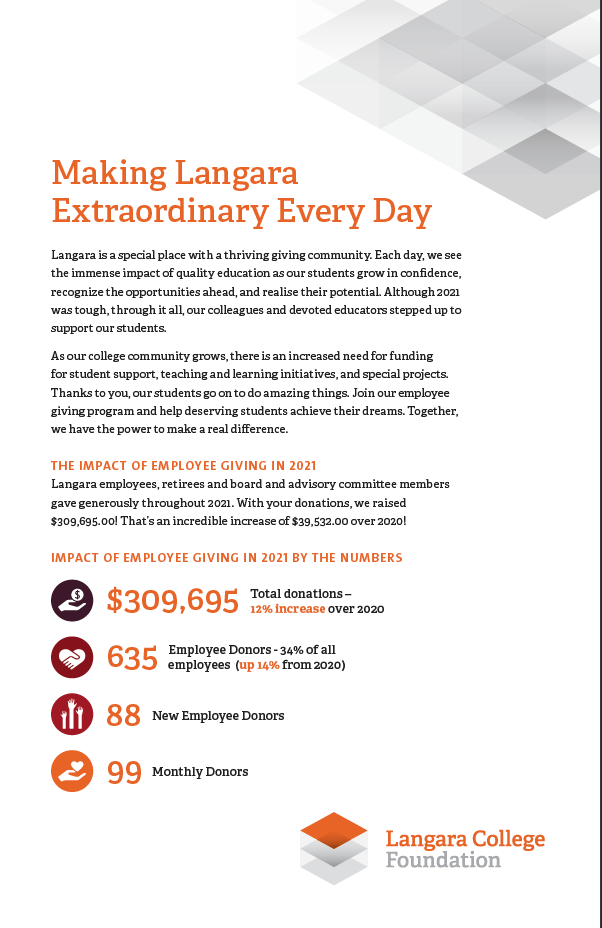 Learn more about the impact of employee giving.