Mar 1, 2021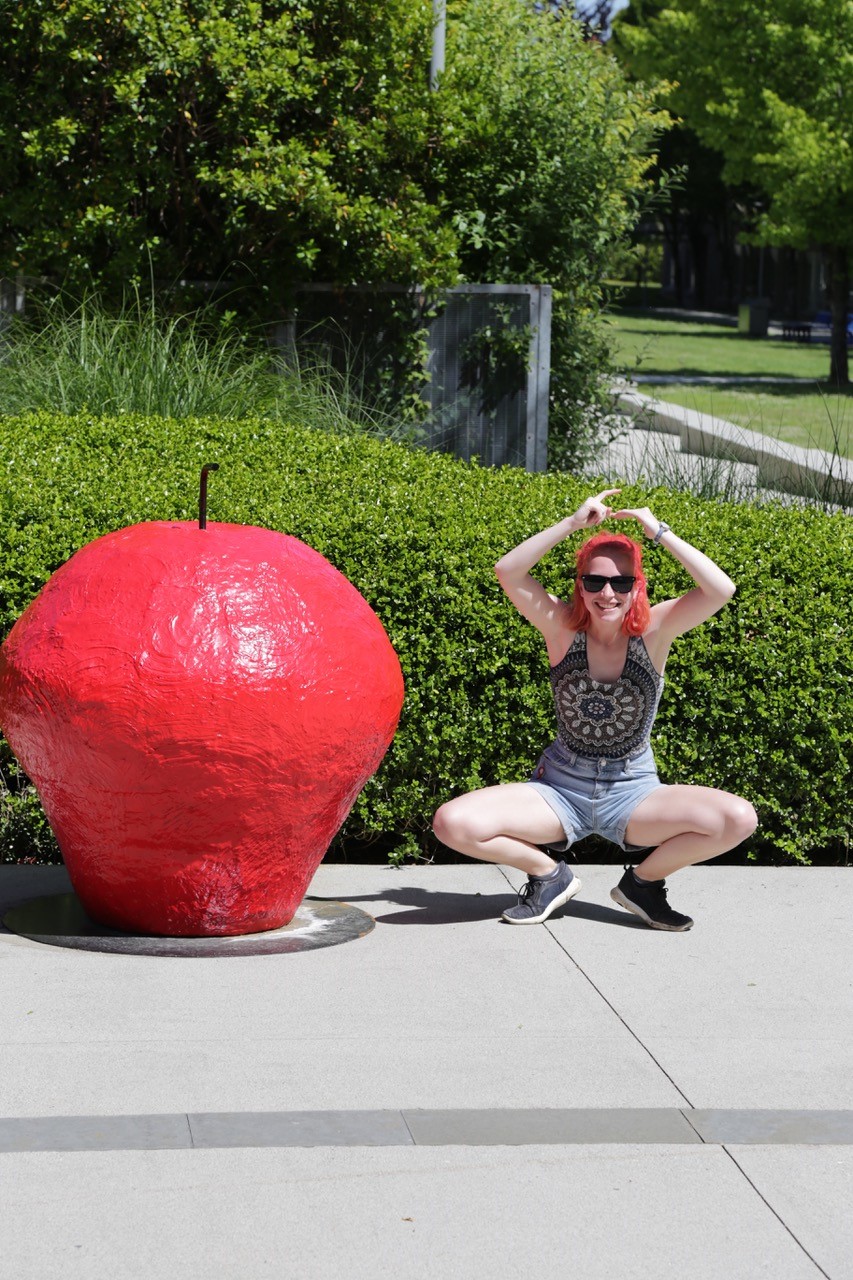 This month we sat down with recent graduate and alum Heather Paynter who donated one of her sculptures to the College, which now sits in between the daycare and the library. She spoke to us about life after Langara, the future and the meaning behind her sculpture.  
Thanks for sitting with us, Heather. 
How are you?   
I'm doing pretty good. Looking forward to spring weather.  
Which program were you part of? 
I was in the Fine Arts Diploma program. 
How have you been these last few months? 
Alright. Winter can be a difficult time, especially with the added stress of COVID-19 but luckily, I have some good friends to support me. 
Let's talk about your sculpture. It's a beautiful, big apple that now sits on campus. How did you come about creating the apple and what was the process like creating it?   
It was originally created for the public art class I was taking. The process was really exciting. I had never worked on a sculpture at such a large scale. I almost made it too big to get out of the sculpture studio! 
What was the intent behind it when you created it? 
The apple was created to be a site-specific public art piece. The original location for the piece was between the Library and the daycare (I'm not sure if it will be relocated). I chose to create an apple in this location because they are a symbol of knowledge and education. Apples are also associated with teachers and schools. The original red colour of the apple was meant to contrast the surrounding greenery and grey buildings. Most importantly, it was created to bring some joy and inspiration to people on campus. 
What led you to donate your piece?  
Originally in the public art class once the semester is over the student is supposed to remove the piece from campus. COVID-19 as well as the size of the apple complicated this a bit. Luckily people at Langara showed interest in keeping the apple. It's an artwork that means a lot to me and I'm grateful it can live on at Langara and wasn't destroyed. 
What does the Golden Apple mean to you and what do you hope the Golden Apple will mean to the community? 
As my first large-scale public art piece, it's pretty important to me and it's been great hearing people's reactions to it.  
One of my favourite things about public art and the apple is seeing people's reactions to it. The first day the apple was out on campus (in its original red colour) a group of kids from the daycare walked by and they were so excited to see it. They were trying to figure out what it was (strawberry maybe?) and wanted to climb on it. I also saw many people who would pat or even slap the apple on their way by. 
One of my teachers mentioned that she and her daughter had a whole conversation trying to guess how much apple juice would be in the giant apple. 
I hope it will continue to be a subject of conversation and entertain people on campus.  
Have you had a chance to see the apple on campus yet? 
I was able to visit it a few weeks after it was painted gold. I haven't been able to admire it in the sunshine yet though. 
You recently graduated, what's next for you? 
For the time being I'm taking it one day at a time. It's hard to predict the future right now. Currently I'm working for a local artist and helping out some family members. In the near future I hope to continue my education at NSCAD in Halifax. 
What are some of the most practical things you learned in the Arts? 
Learning how to make a budget for a project has been very helpful.  
As well as how to use everything from a drill to a MIG welder. 
How has the transition from Langara student to alum been like for you? 
It was a little odd considering I graduated in the Spring of 2020, right at the beginning of the Covid-19 pandemic. Graduation was a little anticlimactic. 
What advice do you have for those who want to pursue art and/or a career in the arts? 
Try out as many things as possible. New mediums, techniques or styles. I never thought I'd like sculpture until I took the intro sculpture class at Langara. Sculpture soon became one of my favourite subjects. 
What's the best piece of advice you received?  
"Keep it simple." 
Do you have a favourite memory of Langara as a student? 
Some of my favourite moments at Langara were working late in the studio with classmates. Especially after almost a year of social distancing, that kind of community is something I miss. 
Do you have any tips for surviving and thriving in the age of COVID-19 (i.e. must-watch TV, Netflix, or YouTube channels; interesting websites, blogs, or resources; personal care tips; etc.)  
I find that getting outside and going on walks is really important for my mental health. Be sure to invest in some decent rain gear though, lest you return with half the ocean in your boots. I also love plants both indoors and outdoors. Spending time in my little balcony garden brought me a lot of joy this summer.