Sep 2, 2020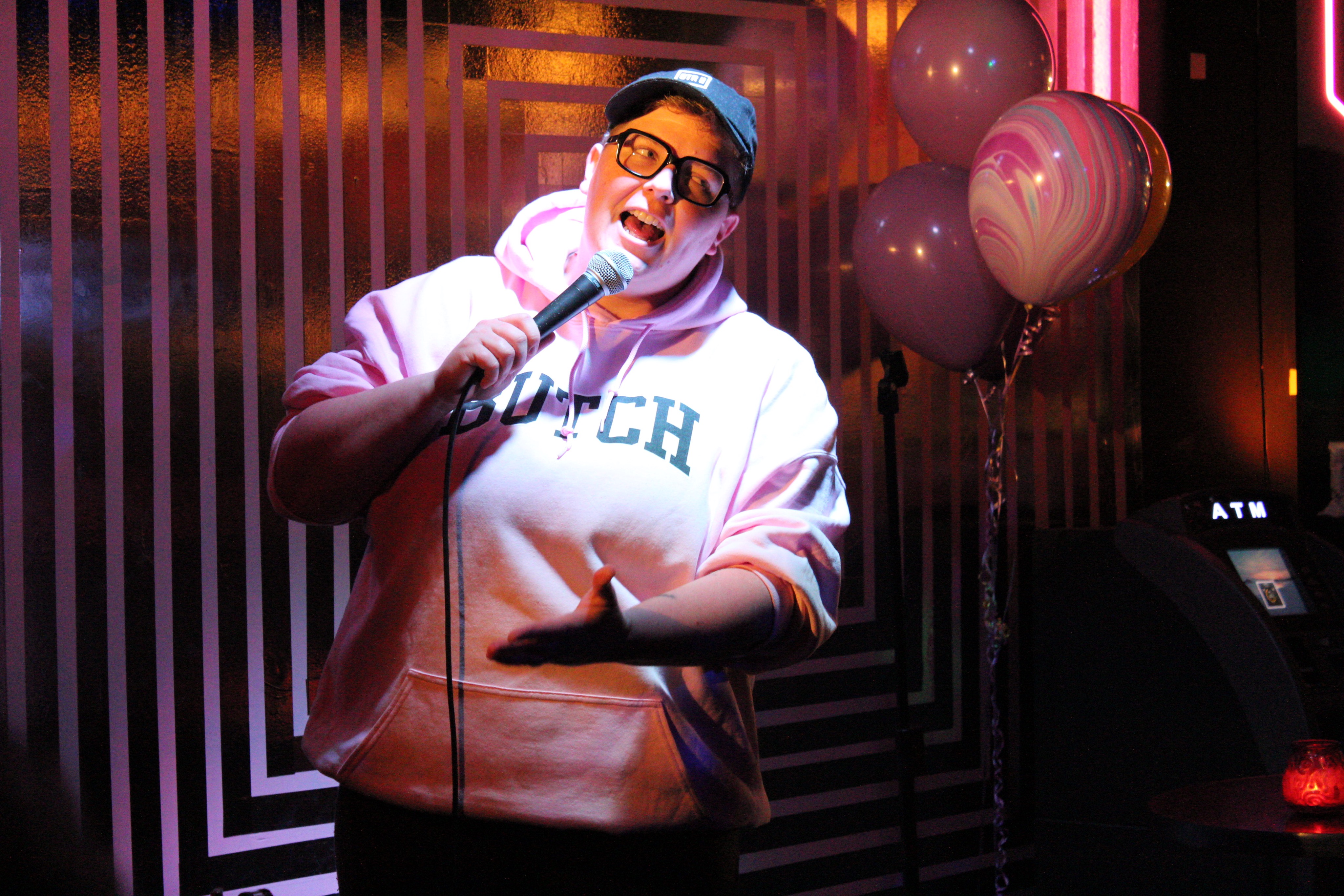 Langara Alumni & Community Engagement had the opportunity to sit down for a chat with Langara Film Arts alumni Jackie Hoffart to discuss her turn as a Judge for the Juno Awards and returning to Langara as an employee.
Thanks for sitting down with us Jackie. You've recently returned to Langara as an employee. What made you return?
It was a great place to study and the jobs are union, so, security was a big driver, not gonna lie! After graduating from Film Arts I did work in the local film and TV industry for several years, including eventually ending up working as a visual effects assistant and later motion capture assistant on three major motion pictures. It sounds a lot cooler than it was, though. I didn't much fit into the environment as it was. The last picture I worked on "broke me", to be quite honest. A month of 6-day night shifts working outdoors in a lot in Richmond where you're actually bored out of your mind most of the time and surrounded by mostly white men in their 30's. It just wasn't my scene. After that last contract, I vowed to only ever work on friends' films in the future. I eventually transitioned to working in the film festival scene, first in odd jobs and then eventually in communications. Ultimately, that lead me back to Langara.
How has the transition from Langara student to alumni to employee been like for you?
It's been pretty fun although I'm very lucky in that I work directly Film Arts and the rest of the Creative Arts division. When we were on campus, I remember thinking it felt a bit odd to be so much older than most people, but even when I studied Film Arts I felt that (I turned 30 while I was in the program).
How has your work from home experience been?
I love working from home—I think I'm more efficient than I would be on campus! I love being able to take a break and cuddle my cats or my wife. I miss all the learning that happens from being collegial but I'm happy to have this new weird way to get to know my colleagues.
Have you always been interested in comedy?
I've been performing stand-up comedy since 2014, and running my own weekly show since 2017. I've produced and hosted shows for JFL-Northwest Comedy Festival for the past three years. I've always been a consumer of comedy, whether it's through TV, sketch, or eventually stand-up. I've never been very interested in improv, go figure.  
How did you get involved with the Juno awards?
Last October. I received an email from the Canadian Academy of Recording Arts and Sciences (CARAS) that said: "Our Comedy Advisory Committee has put forward your name as a qualified judge suggestion to adjudicate our Comedy Album of the Year category!" Then I had to express interest, introduce myself, and, if I remember correctly, indicate why I thought I would be well situated to judge. I was vetted and ultimately selected.
What should people know about the Junos?
They were named after Pierre Juneau, the first head of the Canadian Radio-television and Telecommunications Commission (CRTC), the body known for "CanCon" regulations. I didn't know this until I read it on Wikipedia just now.
Why are the Junos important to Canada and Canadians?
I'm not really sure they are that important to Canada or Canadians, but they do definitely matter to comedians, simply because there aren't many ways to have accomplishments recognized, become well known, or really even excel in the Canadian comedy scene. Any national name recognition or credit an artist can get is important.
What was your role?
I was chosen to be one of ten judges from across Canada. I want to be very transparent that this entire experience came as a huge shock to me. There are many people who have been involved with the industry much longer than I have, but I think running a weekly show in the manner that I do (or did, because COVID) must have given the right people the impression I am here to shake things up in the comedy community.
What did you learn from your experience with the Junos?
This is a bit more insidery, but to be frank, I learned that there's a giant gulf between the people who have had access to record albums and the people who are very funny in this country. By that I mean, I think there are a lot of very funny people out there who aren't represented in the comedy album-having community. The solution: more albums need to be recorded!
How do you think that your experience has impacted your life?
This is the biggest credit I've received in my comedy career so far, but since comedy is not (even remotely) my (or most comedians') full time job, credits end up being currency. However, given COVID-19 and the all-but-end of public performance (or at least in small venues like the one I had my show in) … it's difficult to say what if anything will come from this honour but it feels nice to be known for having good taste.
Did you meet anyone famous?
Unfortunately, I didn't meet anyone at all! The entire experience happened electronically. I also don't know who any of the other judges are.
What surprised you most about the experience?
I was surprised I was nominated to be a judge, but one of my comedy friends told me not to minimize my accomplishments and … here we are. Otherwise, nothing about the experience really surprised me, since I'm pretty familiar with the genre.
What are your recommendation to other alumni who might want to get involved with the Junos or other causes?
There's literally nothing you can do it would seem, except perhaps writing your wish on a piece of paper and putting it under your mattress. More seriously, I guess just focus in on something you really enjoy and consume a lot of it.
Do you have a favourite memory of Langara as a student?
Honestly, everything about Film Arts was pretty profound for me -- I've made some lifelong friendships and learned truly more than I thought would ever be possible to learn in 8 months. For the three-ish weeks I was on campus before The Great Lockdown, I was constantly 'bumping into memories' of my time in Film Arts. One of my favourite accomplishments was working with an instructor in Design Formation (Yvan Morissette) to build a set inside Studio 58 that was to be the interior of an Airstream, which was the location of my final film. It was so incredibly fun and looked really real!
Do you have any tips for surviving and thriving in the age of COVID-19 (i.e. must watch TV, Netflix, or Youtube channels; interesting websites, blogs, or resources; personal care tips; etc.)?
In general, I strongly recommend watching subtitled films in a language you don't speak. Maybe it's just me but I need a little help to keep my eyes away from my phone, though I would say I'm getting better at this. My ultimate personal wellness tip is for white people: it's beyond time for us to understand the tapestry of teeny tiny decisions, activities, and mindsets we all engage every single day that blend together to uphold white supremacy. We might not have consented to this system but we did inherit it and it's our responsibility to dismantle it. Take classes, read all the books, diversify your feeds, pay attention to the discomfort in your belly, get to know your neighbours. Just simple stuff!
Was there a take away from your time at Langara that you'd like to share with students and alumni?
It's funny, one of the things I learned at Langara, while I was learning how to be a director, is to frame any direction you are giving (especially to actors) as a "What if" question. I find this practice has profound implications in many other settings. It is powerful to be curious about the way the world could be.  
Thanks so much Jackie.