Jul 2, 2020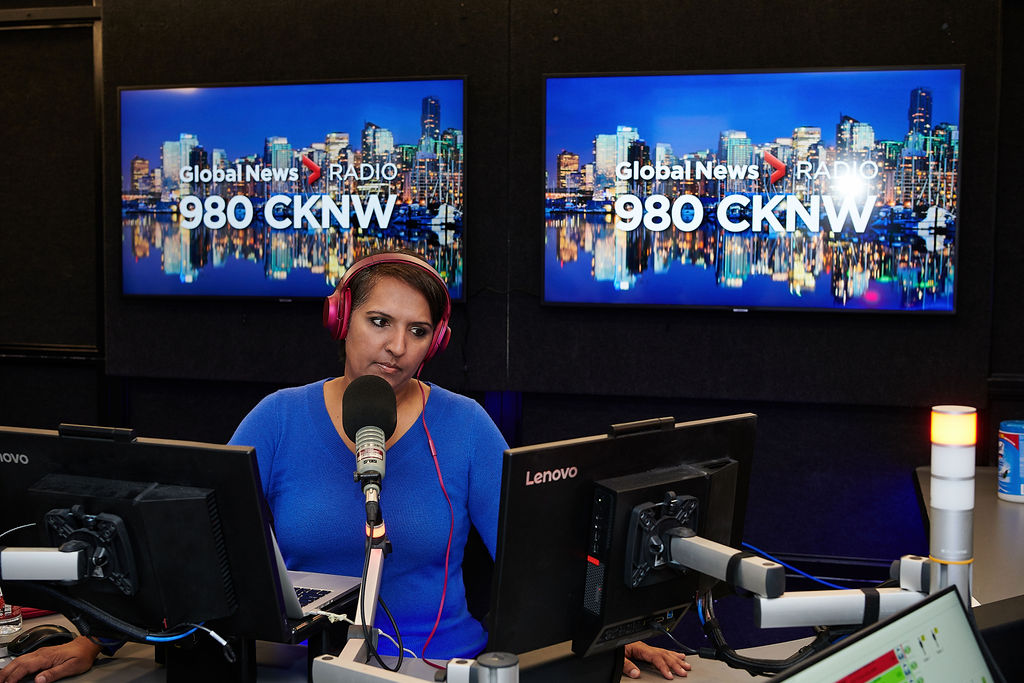 Simi Sara is a Langara Journalism alumni, Langara Outstanding Alumni Award recipent, and ground-breaking journalist. She recently sat down with Langara Alumni to chat about her new role as CKNW Morning Show host, the importance of journalism in these uncertain times, and her best memories of Langara.
Congratulations on your new role. How does it feel to be only the fourth person (and the first woman and person of colour) to be the Morning Show host at CKNW?
It was such an honour to be chosen to host the Morning Show and break those barriers but in the end, we launched during the height of the COVID-19 pandemic and we kind of forgot all about that. The most important part of this job is providing news and information to people, that's why I've always loved working here and the pandemic brought that home in a big way. 
What interested you most about the show?
I love the hours of the mornings, I really do! It seems kind of crazy but I have on and off done mornings for years because I really do prefer it. When my kids were little, it was so important to be home and around in those afternoon hours and if that meant getting up super early to go to work then so be it. And it turns out, I don't mind getting up early. So being able to work early and make an impact in the timeslot were very important to me.  
What keeps you passionate about the profession and the industry?
I've always loved news and keeping track of what's happening, even as a kid I was watching the news and reading newspapers. So being a part of that industry has always felt like a great fit. I don't know what other job I'd be able to do! I'm at the point in my career now, having been doing this for almost thirty years, that being able to use that history and talk about being there has become an important part of being a storyteller for the audience. 
How has journalism/broadcasting changed since you started in the profession?
The business is very different technologically, but at its heart it remains the same as it always was. Love news, chase news, provide information in any way you can. Be fast but be accurate. 
How has COVID-19 impacted journalism and journalists?
COVID-19 has had a huge impact on the business. Overnight we had advertisers cancel their commercials and revenue took a huge hit and yet our services were needed more than ever. It's been challenging on all sides but it has also dramatically emphasized how necessary the work is that we do. I've had so many people thank us for providing information and that feels good. But we also realize it can't be all doom and gloom, people also want to hear inspiring stories of the good things going on in their communities and we've tried to do that as well. 
What is your best memory of Langara?
My best memory from Langara? I'd better say that it's the fact that I met my husband there! We were both in the Journalism program and got married after graduation. 
What piece of advice would you give to up-and-coming journalist and/or students interested in becoming a journalist/broadcaster?
And if I could offer any advice to a graduate or student it would be the same advice I'd been giving for years - you have to love news. If you don't love that chase, if you don't love breaking news, and it you don't love producing that story then it's not the right business for you. Because loving news, seeing that passion, is the first thing that managers who are hiring look for. You may not have all the skills, but you can learn those, but passion can't be taught. 
Thank you so much for your time and chatting with us. We really appreciated your insight and advice.