Apr 28, 2020
Truth matters, especially in this age of "fake news". Langara Alumni & Community Engagement reached out to Langara's Journalism alumni community for their recommendations on best practices in sorting out real from fake. Thanks to Erica Bulman, Alex Hoegler, and Duncan Anderson for the following tips:
Erica Bulman (Journalist and Langara faculty member):
She shared with us this fantastic graphic outlining steps to help you spot fake news (Graphic is courtesy of the International Federation of Library Association and Institutions):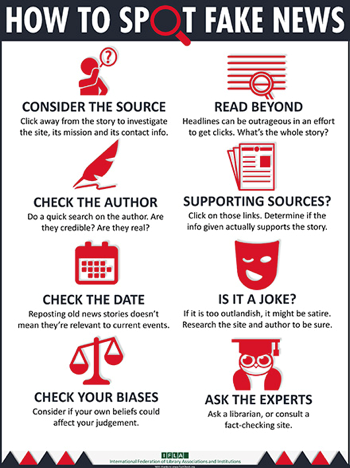 She also suggested the following sites for up-to-date info on COVID-19 info and data:
If you are unsure about the veracity of your information, she suggests visiting snopes.com, the oldest and largest fact-checking site, widely regarded by journalists, folklorists, and readers as an invaluable online research companion. 
Alex Hoegler (Langara Journalism alumni, sports blogger, and freelance journalist):
He always checks to make sure initial sources are verified. For example, with sports reporters who aren't verified on social media, he will check to see if they're being followed by other reliable reporters. He also checks out their media outlet bio, which often links to their Twitter page. In short, he recommends that you do research to make sure that the source is accurate and legitimate, even if they are not verified.
Duncan Anderson (Langara Journalism alumni and a freelance reporter):
He shared a link to a free Google Chrome InVID Verification Plugin, a toolkit to help journalists assess the reliability of newsworthy videos files and content spread via social media. The plug is currently being used by news outlets such as AFP and France 24 to debunk disinformation about the coronavirus in numerous countries.