Jun 24, 2019
Thank you to everyone who was part of Community Day presented by RBC Royal Bank on Saturday, June 15. It was a perfect day to celebrate 49 years on 49th Avenue with our community, and all contributions helped make it memorable for everyone who attended.
We welcomed thousands of students, alumni, employees, neighbours, and special guests to the College – many visiting for the first time or returning to campus after several years. The excitement and energy throughout the day were amazing and it was nice to see the campus full of families enjoying their time together.
There were many highlights from the day but we wanted to share a few with you:
A true community event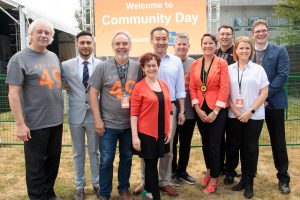 Our Langara community came together to create an event that offered something for everyone. Over forty departments worked together to offer 75+ activities throughout the day – an incredible showcase of our College.

Notable guests at Community Day included The Honourable Harjit Sajjan, Minister of National Defense and Member of Parliament for Vancouver South; The Honourable Melanie Mark, Minister of Advanced Education, Skills and Training and MLA for Vancouver-Mt Pleasant; Michael Lee, MLA for Vancouver-Langara; Vancouver Deputy Mayor Rebecca Bligh; and Linda Holmes, President Emerita.

Two dozen sponsors and community partners helped make Community Day possible. Presenting partner RBC Royal Bank was an engaged, impactful, and generous partner, while the Community Partner Market was a popular attraction on the day.

Our food and beverage partners helped to raise over $5,000 for student scholarships and bursaries, with a percentage of all food truck, beer, and wine sales going to the Beyond 49 Fund.
A Langaran Homecoming
Langara students and graduates were featured on our entertainment stages and in our food truck alley. 

We hosted six Langara homecoming reunions and welcomed many former students, graduates, and former employees, some who attended Langara in the College's early days. Photos from the Homecomings are now available online. 
Special relationships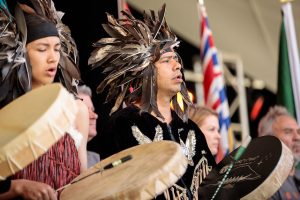 The day opened with a performance from The Coastal Wolf Pack, along with a territorial welcome and blessing from Musqueam band member, Alec Dan representing the Musqueam. The Gathering Space also offered a variety of activities throughout the day.

Hosting a sustainable event was a priority. Our presenting partner, RBC Royal Bank joined the cause by giving away 2,000 reusable water bottles. On a hot day, their water station was a popular choice.

The Langara Students' Union helped continue Langara's tradition of cake by giving out 2,000 pieces with a little help from The Honourable Harjit Sajjan.

The City of Vancouver helped cap off an amazing day when City Hall was lit orange to commemorate our 49th year.
Photos, photos, photos….
Our talented photographers, C&M's Jennifer Oehler and Alexandra Gordeyeva, and Langara Photography grad Amanda Waschuk, were busy taking photos of the day. With over 75+ activations, there was so much happening. Browse the photo galleries to view the moments they captured and to see what you missed:
Thank you
Once again, thank you to everyone who was part of Community Day. It was certainly an event fit for a milestone anniversary. Next up for Beyond 49 is 49 Langarans, our special anniversary awards which in November, will celebrate the contributions of individuals who have had the greatest impact on Langara over the past 49 years. Stay tuned.