May 8, 2019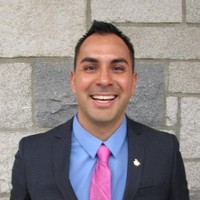 Terrace Desnomie is an alumnus of Langara's Nursing program. He is a registered nurse and a Wellness Care manager at AmerisourceBergen Canada.  A passionate advocate for Indigenous health, he spent his final year at the College balancing his advocacy work with his studies. He was student representative member on the Board of Directors of the Canadian Association of Schools of Nursing (CASN), Vice-President of the Canadian Nursing Students' Association (CNSA), preceptoring at BC Children's Hospital in pediatric cardiology, and pursuing projects that allowed him to focus on Indigenous health with organizations like the Native Health Society Dudes Club program. In addition, he participated in the examination of national nursing issues, travelled across the country participating in think tanks, and meeting with provincial Ministers of Health.
Langara Alumni & Community Engagement had the opportunity to sit down and speak with him about his career path, his advocacy work, and his goals for the future.
Thank you so much for chatting with us. What led you to nursing?
My family's needs initially drove my interest in health care. I grew up in a family where pretty much everyone was ill and in and out of the hospital, and I didn't really know how to handle that. There was always a sense of helplessness growing up watching the health care providers do their work. I always had an appreciation and curiosity about becoming a health care professional but it was a feeling I put aside until I had the confidence to pursue it.
The opportunity, and the decision to move in the direction of a career in nursing, came while working for the federal government on the settlement of the Indian Residential School (IRS) claims. Like many Canadians I did not know what an IRS was, not until I was researching for prospective employment. Once on the job I remember reading through countless survivor stories. I can't share what I read, but I remember reflecting on what it meant to simply say you were an IRS survivor. Days and days of going I don't know how 'you' got through all that. It really reshaped how I thought about things, life, family.
I'm from Standing Buffalo Nation, Treaty 4 territory. My mother was adopted and taken off rez as a baby after sustaining her first significant head injury. I grew up in the city, on the West Coast. I wasn't very aware of my own culture as I didn't grow up with it. My mom even feared mentioning our culture or identity as she associated it with the 'place where she was harmed.'  When I was still young, my mom sustained a second, much more significant traumatic brain injury which resulted in many of the hospital visits I alluded to earlier. For years, as a child, as a teenager, and even as a young adult, I held on to some animosity towards her because of those events. Again, while sitting in my office and having time to reflect, thinking about how IRS may have impacted her parents, impacted her, and even how it shaped my days -it was sort of my aha moment. I developed greater empathy my mom, and much more appreciation for her struggle, now understanding the intergenerational impacts of IRS. It felt like my eyes were opened.
I remember sitting at my office desk, realizing the tremendous need for Indigenous health after learning that health funding wouldn't be renewed for survivors of the IRS system. I felt a push to apply to the Langara Nursing program, which came highly recommended from friends of mine. I didn't come across many or any Indigenous health care providers in years past. I perceived the need to switch careers, didn't have a plan but knew I was going to incorporate Indigenous health into my career.
How did you end up advocating for Indigenous health at Langara?
When I first enrolled in the program, I was the only Indigenous student in the program. I hoped to promote and encourage the enrolment of Indigenous students in the Health sector. I would go to the Aboriginal Gathering Space and see if I could find other students to practice taking blood pressure and get some advice from our Elder Mary Jane Joe. A couple days before my first paper was due, I asked Mary Jane if she knew anyone from Musqueam that I could interview for my term paper and she volunteered her husband, Wayne. So, I met up with him, and he shared his story. We had a few good laughs, and I wrote it up to the "best" of my academic ability. My paper was late, my grade mediocre, but I was happy with it as it marked my first steps on this new journey.
Most of the academic terms in the Nursing program had Indigenous health topics covered within the curriculum. Some of the learning was great –inviting IRS survivors to share their lived experiences. Other times, some projects resulted in unintended, negative imagery or connotations when it came to the health disparities of Indigenous people. I told my instructor if you just change a few words in the syllabus you'll change the lens in which this project is viewed. She challenged me to join the Aboriginal Nursing committee –so I did.
The committee gave me the opportunity to share my experiences as a student in the Bachelor of Science in Nursing (BSN) program, a platform to provide suggestions, and an opportunity to challenge the program. I wanted to see designated seats for Indigenous nursing students similar to what UBC medicine had put into governance back in the late 90s/early 2000s. The idea had already been gaining traction at the committee level but needed more of a push.   
This early experience was paramount when it came to my next steps entering into the political world of nursing. Towards the end of my undergrad, after being elected VP of CNSA, my focus became a little bit more centered around national issues within the nursing world, rather than on promoting Indigenous faces into health careers as I had envisioned when I ran for the position. I had envisioned promotion of Indigenous seats in schools of nursing and curriculum reform to include topics including IRS. The reality was Canadian nursing students had not transitioned well from their old licensing exam to their new one for several reasons. As a quick picture, BC had adjusted the best out of all provinces and dropped by the anticipated curve, Ontario had significant gaps in their regulations, and New Brunswick their Francophone writers were impacted the most. Quebec was the least impacted because they opted out in the first place.
I was so frustrated that this issue had become the focus of my time, that this was flooding my inbox, the topic of my conference calls, and in my nightmares when I slept. But I was fortunate –one of the things I love about nursing was working with the team I was a part of. We had an amazing team on our student board that year. We understood the gravity of the situation. We decided to act when we could have passed. We supported one another. There were tough moments and hurt feelings along the way, we rallied when it mattered, we understood our responsibilities and represented our membership.  A lot of decisions you make are not typically challenged beyond your own personal needs, the needs of your family, or even your community. This learning experience pushed me to examine one topic through so many perspectives: what it meant personally, what it would mean to my school, province, country and even global implications. It was physically and mentally exhausting –but with the right people you can pull through.
Before the Truth and Reconciliation Commission's (TRC) calls to action were announced, I would meet formally and informally with different deans from schools of Nursing from across Canada, and they wanted to know what my take was on the exam because that had become a priority. My one-year term was closing, and I needed to refocus back on my goals. In exchange for my response, I asked them, to talk to me about what they were doing to advance Indigenous health. The answers ranged from "it's not on my radar" to "we have designated seats, and Elders-in-Residence." When I liked the responses, I asked if they would consider sharing best practices with other schools, even schools that might be considered a competitor. When I didn't like the responses, I challenged them to speak to their peers to bring the topic back to their faculty meetings. My hope was that the topic would be rejuvenated.
Looking back, in most arenas, my voice, though occasionally silenced, had an impact. I give Langara a lot of credit for those opportunities and experiences because I was given a voice and a platform as a starting point. I was able to build off those early experiences and I'm thankful for it.
In 2015, the TRC published 94 Calls to Action. Call to Action 24 asked that medical and Nursing schools in Canada require all students to take a course "dealing with Aboriginal health issues, including the history and legacy of residential schools… and Indigenous teachings and practices." Did you see a change from that?
I remember that day, I was in Ottawa on December 15th. I was there for a meeting because we were participating in a think tank in anticipation of a new health accord. We were talking about the need for a national pharmcare strategy and a social and health accord. It was such a great learning experience, but my mind and heart were elsewhere that day. We were meeting in the Westin outside of parliament and next door in the convention centre Senator Sinclair was officially releasing the report. It was an exciting time. I was discreetly trying to check my phone for updates as we went through the agenda. My group and Senator Sinclair were at the same restaurant that week, they wanted me to go over there but I didn't want to interrupt.  It was a relief to read the report, I knew it was going the help.
The TRC's report, especially Call to Action 24, was a big boost for Nursing programs to move in that direction with their curriculum. A couple of years after I completed my BSN I returned to CASN (representing 90+ Schools of Nursing) for a meeting and was moved when their assembly officially moved to act on the TRC calls to action.
In less than a five-year span, I witnessed the topic of Indigenous Health become a difficult back burner topic for many to a difficult front of mind topic. Will it be enough? Will everyone get it right? Not likely. Is it a move in the right direction? Of course. There will be much debate over process, engagement, authenticity, and the semantics of it all. The story hasn't been written but we can all have our say. At the end of the day – this needs to improve the health outcomes of Indigenous people to be successful, it needs to improve relationships and experiences. It needs to be the blueprint for action and not just a document we reference because our educational institutions asked us to do it. Overall, I'm optimistic. I have seen a notable difference in the youth and their approaches to the topic.
Do you see an increase in Indigenous health professionals now?
One of our releases of 2016 stats revealed we had under 9,700 Indigenous nurses in Canada representing 3.0% of all nurses in Canada. That's up from 2.4% in 2011.
Next, how do we keep those numbers increasing? How do we mobilize those health professionals into careers that have direct influence over health outcomes of our people? How do we better focus our undergraduates so that when they finish, they can have that choice in career where perhaps they are making an impact in the community on the front line, if that is what they choose to do? These next steps don't seem to be very fluid, yet. There are pockets of fluidity and best practices but not to scale. The influencers need to start talking to each other instead of competing for the same resources.
I think that the right discussions are happening to increase numbers nationally and the right actions are taking place with more designated seats. But there are still institutional barriers, still institutions choosing the highest grade over the balanced applicant. If you coming from a socioeconomically deprived state having the confidence to pursue your goals is one task, finding the environment to support those goals is another. You need to have achievable goals and the right institutional policies that can be the difference between making or breaking the student. You shouldn't have to be twice as good just to get by.
There is still a lot of pressure to be everything to everybody when it comes to Indigenous health. Schools want more professors so there is more pressure to get multiple masters or PhDs, communities need nurse practitioners, not every province has Registered Psychiatric Nursing programs, and that is just a couple examples of the professional western nursing side of things. There are traditional models too. So, you need to examine how both models of medicine can co-exist and understand the needs of the community. All Nations Healing Hospital out in Fort Qu'Appelle, Saskatchewan is a good example of where there is both infrastructure an HHR capacity, with concepts based on the community needs. There are models that exist but each area has its own needs, and varying degrees of capacity to meet those needs. So yes, I see an increase in professionals but I also see care providers getting stretched beyond the regular demands of the work.
Do you have a favourite memory of your time at Langara?
One of my favourite memories of my time at Langara was the Indigenous grad ceremony. It was really cool, just being there with other Indigenous graduates from other programs, family, catching up with Mary Jane and Wayne who were there for me when I first started the program.
It felt like it was a 100 degrees, perhaps I was, being slightly febrile on a clear sunny day in June, wearing my starblanket, and nervous about having to say a few words.
It was truly an honour to be there to be present in that moment. It was a nice ending to that part of my life. To reflect on it… going back to the decision to apply to Nursing school, then waiting two years to actually get there, and being able to advocate for Indigenous health during that undergraduate period. And now, seeing now that more Indigenous students are enrolling, that's huge. It was nice to be a piece in that story.
What advice would you have for Nursing students who are facing challenges, and what do they have to look forward to in this career?
It is important to recognize when you do need help and be comfortable within yourself to ask for that help. Many people do not know how many resources are in place on campus to support them. I am not sure I would have finished the program in my final year without some support and flexibility from Langara. I always feel I was supported overall. When I took on multiple roles in my final year, including my position on the board of the Nursing Association, the Chair of the School of Nursing, Janine, had an open-door policy. So, when I took on challenges, the support from Langara was instrumental. Members of my family also continued to encounter health concerns, so my focus was diverted at times. It would have been a difficult battle to fight alone.
Nursing is a really tough and really rewarding career. Nursing jobs are rewarding career no matter what you do, and opportunities are there. The biggest thing is getting through school. It's a grind. Nursing school is tough; there's no doubt about it. I think sometimes people forget that just to get there, to be there, requires a significant amount of success, perseverance, and then to see it through. So, always recognize yourself as you go through it. You're going to have your ups and your downs. Learn from your downs, celebrate the ups. You're stronger for those experiences. The message is you can get through it. You'll learn a lot about yourself through this process.
Earlier this month, you spoke with current Indigenous Nursing undergrads at Langara. What did you take from the experience of speaking with them?
It felt great to be back! I was blown away by the changes at the school. The new space has a great set up for learning and the new additions to staff can get students set up with the right resources as needed. I was telling Rick, the Director of Indigenous Education and Services, that there were only a couple other schools I noticed that had programs to work on core sciences before entry into the program. Often, the feedback I would get from nursing schools was that core sciences prerequisites were barriers to entry.
So this was a bit of a dream coming back here and doing this. I was fortunate to meet Indigenous students from across the country during my time as a student but I never had that experience in my own back yard at Langara until now. Just to know that there are several students in the program – that they can have their own peer group if they want. I'm not sure if they got anything from my visit but the students were very bright, and I hope they continue to build that Langara community. I shared with them that I hope they will be the ones coming back one day to have these talks. I left them with some resources that hopefully they will take with them and pass-on.
Over the last five years, I was happy to be a part of some of the changes that were implemented but I'm even more excited to see what the next wave of learners will do in the next five.
What is your hope for the future of Indigenous health professionals? 
I am optimistic that as we continue to build capacity of Indigenous health professionals here, there will be a good shift. You still have a lot of Indigenous students that are the trailblazers in their family - the first person in this profession coming out of the community, facing the same challenges… but sometimes they are still facing it alone. So, if they don't have to face it alone… That would be the dream.
What's next for you?
I'm not sure. I hope to pursue a Master's Degree and tie in my ambitions to promote Indigenous health more locally. Nursing can take you in so many directions. There were a few projects I left on the table, the time could be nearing to revisit those opportunities.
Coming back and reflecting on where I started with Langara to seeing where the school is now, I would maybe work with Langara students in the future. I could see myself doing that.
Thanks so much for sharing your story with us. We look forward to hearing more about your inspiring professional journey in the future.