Jun 26, 2017
Alumni Relations recently sat down with Langara Post-Degree Diploma (Business Administration) alumni Navdeep Hanspal about his career, school, and his Canadian experience.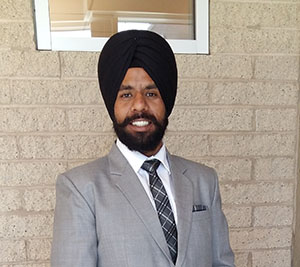 Thanks so much for agreeing to chat with us. We're really excited to hear about your experiences so far. What made you decide to come to Canada?
I heard a lot about Canada as one of my uncles lives here. My family was experiencing tough financial times. My father died when I was in high standard and it was hard to manage finances. I knew if I went to Canada and settle, I could earn enough to support my family. It's why I came.
What surprised you most about your experience as an international student?
It was very tough when I first arrived in Canada and started as a student. I was very homesick. It was very hard to manage a part-time job, classes five days a week, five courses, exams, cooking, and cleaning. I didn't get enough sleep every day. I was going to sleep at midnight or 1am and then had to be up by 4am each morning. The beginning was really hard but you get used to it. 
It got better in the 2nd semester. We only had classes four days a week. It meant that I could work three days per week without overlapping with my classes. I'm glad I struggled through it without dropping a course or taking a break. My goal was to complete my education as soon as possible. I accomplished that.  Some of my classmates who took a reduced course load or break are now just starting their final term.
What advice would you give people just starting their program?
Choose your group project partners very carefully. It's difficult enough to schedule meeting and coordinate work around everyone's schedule. You don't want to have to also work to make sure everyone is doing their portion. Because if your project is due and you find that your partners haven't started anything yet, that will mean you have to stay up all night to complete it.  
Ask your instructors for help. My instructor also helped me with my accent. When I started my first job at London Drugs, I noticed that when I was talking with customers I could see from their faces that they were having problems understanding me. When I mentioned this to my instructor, she introduced me to their language specialist. The specialist told me to speak slower. She told me that letters like "b" and "p" are pronounced differently in India and Canada. Once I made these changes, people were able to understand me more easily. 
Take your career courses seriously. Career courses helped me build my resume and cover letter that were tailored for Canadian employers. We practiced doing interviews. My instructor would point out mistakes and push everyone in the class to do their best. The assignments in Coop were not just assignments but skills that help you get a real job. Coop was really helpful. I know that it's only one credit and one class per week but taking them seriously really makes a difference.
What was the most important thing that your co-op experience taught you?
Co-op taught me that in Canada, communication is really important. If you're doing great or if you made a mistake, you need to let your boss know. During my interview with my current employer, I asked them how they were making payment to vendors and how customers were making payments (e.g. processing a cheque can take five to 10 business days). I let them know that I was used to working paperless, everything online, and that it was more efficient. They asked me to implement these changes needed to take the company paperless. I spoke with the staff and asked them to avoid printing and keep all the documents online as PDFs. We had our vendors do online transfers rather than sending a physical cheque. I told my instructor that I improved efficiency by 50 to 60 per cent. She told me to let my boss know. He was really pleased. Now I keep him updated on everything I'm doing. 
How did you find your current job?
I did my co-op placement at Padtech Global Sourcing in Delta. I got that job when I was in the third semester of my program. I started part-time as a bookkeeper and office administrator. After I finished the semester, I asked if I could become full-time. 
My boss has several different companies, who were all outsourcing bookkeeping services and he saw an opportunity to bring everything internal and hired me full-time. Now, I take care of three different companies (Padtech Global Sourcing, Kiari Consulting, and Painted Picture) as bookkeeper and office administrator. 
So, my Co-op job has become my permanent job.
Are you enjoying your new position?
Yes, I'm very happy. Most of the time I work from home. We have access to everything online so I only go to the office two and three days per week. My boss is expanding his business around me. KRA does consulting work and when he identifies issues with their bookkeeping, he brings me in to help. It's good to know my efforts are translating into more business for the company. Personally, its resulted in two raises in the past six months. 
What do you like best about your job?
When I first got the job, I was assigned a trainer but they left after two weeks. I pretty much had to learn everything myself, often from information I found online. It was hard at the beginning. I'm still figuring stuff out about the CRA. But it's also the best part about my job. I don't report to a manager. For all things financial/accounting-wise, I am in charge. I deal with the Canadian Revenue Agency. I file GST/PST, T4s, and all that. It's hard but rewarding.
Any advice you liked to give international students thinking about taking a similar path?
When students come to Canada and see other people getting jobs in restaurants and retail industries, they think they are the only jobs they can get. We forget what we did in India, what experiences we had. We all had different experiences but we start following the same line.
My friend told me when I arrived that I should apply for a part-time job in retail or hospitality. So, I printed my resume and started going downtown every day to hand out my resume. Eventually my efforts paid off and I got a job at London Drugs as a store and system administrator. They hired me to be in the cash room to count the money, because I had accounting experience. I had to do everything - stocking the morning shift, cashier, customer service, everything. 
But it really wasn't what I wanted or was used to. In India, I worked as an accountant for a couple of American companies. So, when one of my classmate got an office job as a night shift project manager in a downtown office, I asked her how did she got it. She said she applied online. I realized that if she could get such a job, I could as well. 
I did research on Craigslist for bookkeeping and accounting jobs. I realized that the things they were asking for I already had. My experience working for American companies in India and my familiarity with North American accounting software programs and processes were an advantage. 
For the next few weeks, all did was apply for jobs online. I must have applied to 60 or 70 jobs and did 3 or 4 interviews before I got a break with the company I'm currently working for. 
My advice is don't just follow what others are doing. Leverage your previous experience and skills. Look for work that will advance your eventual career goals. Work for a Canadian firm. Get relevant experience. Make your own path. 
Where do you see yourself in five years?
My dream is to start on my CPA designation and eventually open a CPA firm with my friend. My friends and I (all PDD grads) are going to start it together soon. 
So five years from now there could be an accounting firm run by Langara PDD students! Thank so much Navdeep. Good luck on your career and studies. Please keep us updated on your progress.