Nov 4, 2016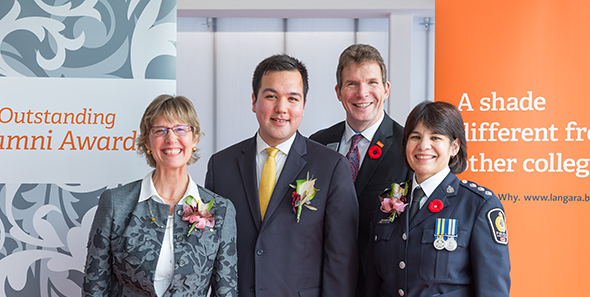 (From left to right: Leslie Cliff, Randy Robinson, Dr. Lane Trotter (Langara President), Marcie Flamand - Missing Catherine Kallin)
Vancouver, BC – Langara College honoured its 2016 Outstanding Alumni Award recipient at an on-campus lunch reception on November 3, 2016. The awards celebrate the significant contributions made by Langara alumni in their profession, at Langara, and to society-at-large.
"This year's recipients are amazing," said Dr. Lane Trotter, President and CEO, Langara College. "From a leader in ethical financial services to a police inspector, aboriginal advocate, and theoretical physicist, each, in their own way, is making positive change in our world. We are so humbled to have them as part of our Langara community. The diversity of our recipients really speaks to Langara's ongoing commitment to creating unique pathways for our students."
The 2016 Langara Outstanding Alumni Award Recipients:
Check out the OAA Photo Gallery
About the Outstanding Alumni Awards
The Outstanding Alumni Awards (OAA) is Langara's way of celebrating the remarkable contribution made by our alumni in their profession, at Langara, and to society-at-large. Each fall, the Langara community gathers to honour the best and brightest and celebrate the impact they have had on the world.
About Langara
Located in beautiful Vancouver, B.C., Canada, Langara College provides University, Career, and Continuing Studies education to more than 21,000 students annually. With more than 1,700 courses and 130 programs, Langara's expansive academic breadth and depth allows students of all ages, backgrounds, and life stages to choose their own educational path. Langara is also known as house of teachings, a name given to it by the Musqueam people on whose unceded traditional territory the College is located. 
Learn more.
Yvonne Ohara
Manager, Communications & Marketing
Langara College Foundation
604.323.5674
alumni@langara.ca